Crews Control: Former NFL player, actor talks newest movie role
Kam Williams | 5/28/2014, 10:51 a.m.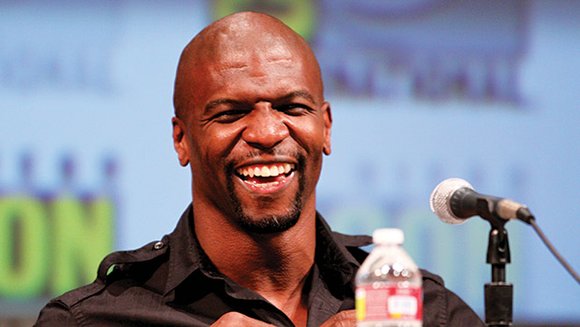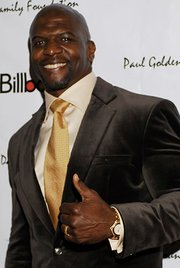 Since retiring from the NFL, Terry Crews has traded in his helmet and cleats to pursue an acting career while also becoming the ultimate family man and fitness enthusiast. Over the past several years, omnipresent Crews has been seen almost everywhere, whether as the pecs-popping pitchman for Old Spice, portraying the overworked dad on "Everybody Hates Chris," a tough guy in "The Expendables" film series, the loveable goofball in "White Chicks," Will McAvoy's bodyguard on HBO's "The Newsroom," or randy congressman Herbert Love in "Arrested Development."
2014 has been a busy year for Crews, who has already appeared in Tyler Perry's "The Single Mom's Club" and in "Draft Day" opposite Kevin Costner. And later this year, he will be starring with Sly Stallone in "Reach Me," and reprising the role of Hale Caesar in the "The Expendables 3."
He is currently a series regular on the Golden Globe Award-winning TV sitcom "Brooklyn Nine-Nine," playing Sgt. Terry Jeffords, whose ripped exterior belies a sensitive and beleaguered interior. He also just added author to his resume with the release of his first book, "Manhood: How to Be a Better Man." And it was recently announced that starting this fall he will be serving as host of the game show, "Who Wants to Be a Millionaire?"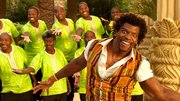 Crews spoke to the Banner about playing the character Nickens in the new movie, "Blended," co-starring Adam Sandler and Drew Barrymore.
I loved "Blended." It kept me laughing non-stop.
That's great! And it touches your feelings along the way, too. That's the thing. What's so good about the Adam-Drew collaborations is how she tempers him. It's the real deal. Their "50 First Dates" was the first comedy that I ever caught feelings on. I was like, "Whoa! I'm feeling the romance here. I want them to get together. Why do I care so much?" And I got emotional about it. That is what they bring, a magical combination that works every time.
I liked the two of them in "The Wedding Singer," too.
They're a great combination. My wife does that for me. By myself, I'm a hard pill. But, wow! My wife makes me look real good, because she smoothes my rough edges. That's why I say, "Take your wife everywhere. It's a good thing."
You provide the comic relief throughout this movie. Just when we're about to forget about Nickens, he pops up again with that Greek chorus.
You know what's wild? Adam called me up and before I'd seen a script, he said, "Man, I wanna do this movie with you that we're shooting in Africa. Are you down, brother?" I had no idea what was going on, but I was like, "Let's go! This is awesome!" I'm a card-carrying member of the Happy Madison Productions family. Adam put me in "The Longest Yard," "Click" and "The Benchwarmers." Every time he calls, it leads to nothing but great things. That's why I just said, "Let's do it!" We didn't really have this character all straightened out. We sort of figured it out as we went along. He came up with a great idea. He said, basically, "Let's make him the South African Tom Jones." Once we had that, we were off and running.