Chinatown development brings rare affordable units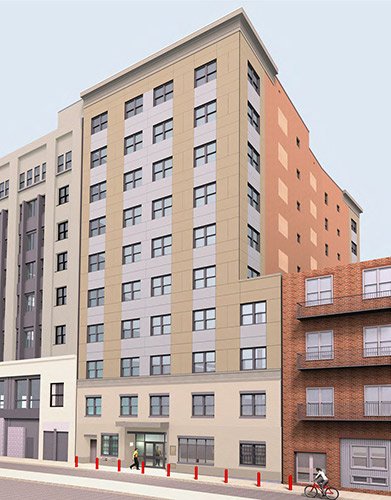 As real estate costs skyrocket around Boston, Chinatown has been at the center of housing advocates' fight to keep long-time city residents from being forced out of their neighborhoods. Last week, Chinatown residents got a boost with the groundbreaking on a long-awaited project to add more affordable housing to the neighborhood.
The new $26.7 million project, located between Oxford and Ping On streets and abutting Essex Street, is slated for 67 affordable housing units in a 10 story building. The Oxford Ping On development will contain 48 studio apartments, 16 one-bedroom and three two-bedroom apartments. It also includes plans for seven units to be used to help homeless people transition from life on the streets through a partnership with Home Start and St. Francis House.
The Chinese Economic Development Council is developing the project, which is scheduled for completion in late summer 2015, with $5.5 million in funding from the City of Boston. Eastern Bank is a main local lender funding the project. Project design was handled by Chia-Ming Sze Architect Inc. and the project will be completed by Consigli Construction Co.
The project will fill a vacant site on Oxford Street, which has been used solely for parking since the 1950s.
Mayor Martin Walsh was on hand last week to celebrate the groundbreaking with project officials.
"I'm proud that the City of Boston's commitment to this project will create 67 units of affordable rental housing for working people in Chinatown," Mayor Walsh said in a statement. "The construction of Oxford Ping On will rebuild and preserve an important portion of Boston's Chinatown community. We are proud to partner with an exemplary team of builders and designers."
Edward Chaing, chairman of the Chinese Economic Development Council's board of directors, called the project a "momentous occasion for Chinatown" and said it will be a "transformational project" resulting in much-needed, modern and affordable residences for the Chinatown community.
Started in 1974, the 40-year-old development council has long dedicated its efforts to backing the economic development of the Chinese community in Boston, particularly in the city's Chinatown. This is the organization's third 100 percent affordable housing project, having developed some of Chinatown's first affordable housing in the 1980s and also putting up an elder housing complex in the 1990s.
Min Wu, acting executive director of the Chinese Economic Development Council, said the Oxford Ping On development showcases her organization's dedication to developing projects that support the community even when it is a long-haul effort to do so. The Oxford Ping On groundbreaking is a culmination of more than seven years of work.
"That is a main part of what we do on a daily basis and it is getting more and more difficult to develop affordable housing so it takes longer," Wu said.
The fact that the development is 100 percent affordable housing contributed to the lengthy development process, but Wu said her organization had no intention of backing down from the plans.
"Part of the reason that it is 100 percent affordable housing is because our board members have always insisted that, if we are going to build, we are going to build affordable housing," she added. "It takes a lot of patience and a lot of planning, but we have a lot of good advocates on our team."