Boston churches finding second life as condos
Yawu Miller | 5/28/2014, 10:20 a.m.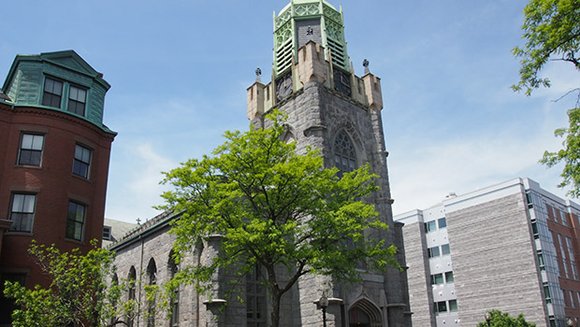 There's no doubt the real estate is on the rebound in Roxbury. In February, a triple-decker on Whiting Street sold for $730,000. And earlier this month a single family home on Waumbeck Street reportedly received an offer of $480,000.
While real estate brokers say inventory is limited in Roxbury, the neighborhood's Queen Anne Victorians, brick row houses and wood-frame triple-deckers are fetching higher and higher prices.
It's only a matter of time before another valuable Roxbury building-type makes its way to the housing market — churches.
In the South End and other neighborhoods of Greater Boston, dozens of churches have been repurposed for housing and other uses in recent years, many of the 63 churches, rectories and other buildings sold by the Archdiocese of Boston.
Now, as the Charles Street African Methodist Church and OneUnited Bank sort through details on the church's bankruptcy and the value of its property, the sale of the Warren Street church building appears more and more imminent.
If it sells to a real estate developer rather than another church, the Charles Street church could become the largest church in Roxbury to undergo a condominium conversion.
Church condominium conversions are by no means new. One of the first in Boston, Church Court on Massachusetts Avenue in the Back Bay, was built in the burnt ruins of the Mt. Vernon Congregational Church. In recent years, the closing of Catholic parishes and a general decline in church attendance have opened up more churches to condominium conversions:
The former St. Peter and Paul's Catholic Church on Broadway in South Boston was converted in 2003 into 36 condos, with an additional eight in the building's rectory. An 800-square-foot, one bedroom unit sold there last year for $385,000.
A developer plans to convert the New Hope Baptist Church on Tremont Street in the South End into six luxury townhomes, with underground parking and separate entrances for each unit.
The Concord Baptist Church on Warren Avenue in the South End is for sale and is widely expected to be developed as condominiums.
Condominium conversions are just one re-use for vacant churches. Other churches in Boston have be re-purposed as community centers — the Jorge Hernandez Community Center in the South End's Villa Victoria housing development, and the soon-to-be converted Blessed Sacrament Church on Center Street in Jamaica Plain.
With church attendance trending down in the United States, more conversions could be in the works, according to Boston University Professor of Sociology and Religion Nancy Ammerman.
"Attendance numbers, however, are not the whole story in the number of empty church buildings," she notes. "That is also about shifting populations. People who used to live in working class neighborhoods in cities moved to the suburbs, and new populations moved into those neighborhoods. Those populations, often immigrants, might or might not have the same religious traditions. They, in turn, start new churches and mosques and temples. Some of them take over the old church and synagogue buildings."
The Bethel African Methodist Episcopal Church took advantage of the shifting demographics of church attendees, moving to the former St. Andrew The Apostle Church in the Forest Hills section of Jamaica Plain. The church's former building, on nearby Forest Hills Street, is now the Parkside Christian Academy.
"Urban landscapes are full of buildings that have gone through multiple 'lives,'" Ammerman says. "Churches are among the most visible when they change hands, and the conversion of a church to condos or other space seems startling, but it's not an unnatural process."
With Roxbury real estate values trending up, properties like the Charles Street AME church building, Renaissance Center and commercial storefronts, all of which are subject to bankruptcy court procedures, could fetch high prices on the market.
"Roxbury is emerging very quickly as a highly desirable neighborhood," notes real estate broker Vernon Barsatee. "Despite the real estate cycle of the fluctuations up and down, the general market trend will only continue to increase. With most recent sales of a completely renovated three family on 34 Whiting St. selling for $730,000, this is a sure sign of changing values. Roxbury will be growing with the new construction and developments taking place only add value to already increasing market."