Providence's Dominican Mayor Angel Taveras runs for governor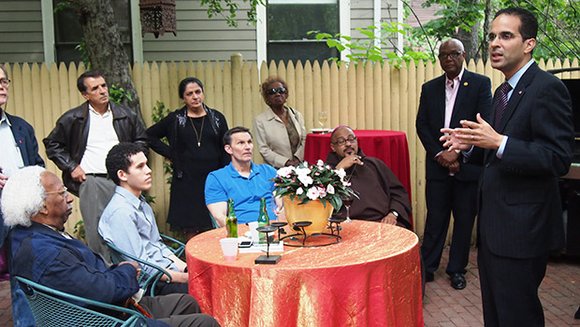 Angel Taveras' credentials are impressive: a Harvard University undergraduate education, Georgetown Law School and the first Latino mayor of Providence.
But when he introduced himself to a gathering of Cambridge donors Sunday, he lead with his early education credentials.
"I'm a Head Start baby," he said. "I went through the public schools to Harvard. And when I got there, I learned there were other kids there from Head Start. It's a testament to what government can do when it invests in people."
Taveras was in Cambridge at the home of former Cambridge Mayor Ken Reeves and Greg Johnson, raising money for his bid for the governor's office. If elected, he will be the first Dominican American to serve as governor of a U.S. state. In the Democratic primary, he's facing off against Rhode Island General Treasurer Gina Raimondo, Clay Pell, a former White House National Security staff member and building contractor Todd Giroux. Taveras and Raimondo have led the Democratic field in polling.
Taveras grew up in Providence one of three children of a single mother who supported her family working factory jobs. He credits his volunteer work at Harvard's Phillips Brooks house for fueling a love for public service.
His sophomore year at Harvard he founded the Mission Hill Summer Program in the former Mission Main Housing Development.
It was also at that time that Taveras developed an appetite for electoral work.
"I went up to New Hampshire and did some door-to-door work for Senator Tom Harkin from Iowa," he said. "When I went back home, I stayed involved in campaigns as a volunteer."
After graduating law school, Taveras worked as a lawyer and associate judge in the Providence Housing Court. He stepped down in 2010 to run for mayor, emerging from a four-way primary with 49 percent of the vote and winning in the general election with 82 percent.
After being sworn in, Taveras was immediately confronted with a $110 million deficit in a $600 million budget, forcing him to make painful cuts to public employees. While he was able to negotiate cuts with firefighters and other unions, Taveras generated headlines for firing the city's teachers, although most were re-hired.
With a quarter of the state's population and much of its economy in Providence, Tavares said bankruptcy was not an option.
"Rhode Island is small," he said. "If Providence goes down, so does the state."
In the end, Taveras' measures worked, moving the city from a $110 deficit to a $1.5 million surplus in 2013. The city has invested money in new schools, road paving projects and hired new police officers.
Taveras earned high marks for his handling of the painful cuts to the city's budget.
"He went to all the communities explaining the situation we were in and why we had to take the measures we took," said veteran Providence political activist Danilo Rodriguez. "He did a great job, considering the economic situation Providence was in."
Rodriguez, who works in a factory in Providence, said Taveras' appeal goes beyond his electoral base in the capital.