Motown songwriter Valerie Simpson turns page on next chapter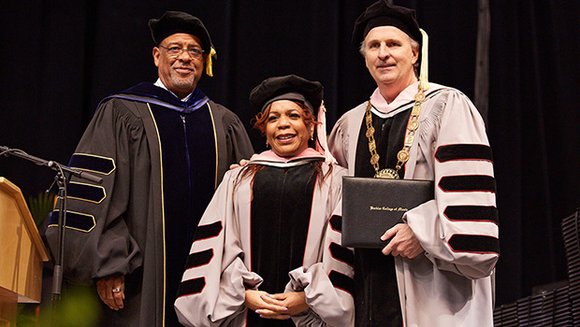 Forty years ago, a love of music brought together one of the most famous songwriting/producing teams and recording artists in music history, Ashford & Simpson. Love was also in the air when Nickolas Ashford and Valerie Simpson met at Harlem's White Rock Baptist Church in 1964 (he was in his early 20s and she was around 17 or 18 at the time). But it wasn't until 1974 that the two were married, though Simpson admits there was a spark from the start — a spark when they met which flourished into one of music's great partnerships.
In 1966 they joined the Motown staff and began writing songs of love, loss, devotion and hope for many of the artists in the Motown family. They were the force behind the songs "Ain't No Mountain High Enough," "Ain't Nothing Like the Real Thing" and "You're All I Need to Get By" sung by Marvin Gaye and Tammi Terrell. They also wrote Diana Ross' "Reach Out and Touch (Somebody's Hand)"; Gladys Knight and the Pips' "Didn't You Know You'd Have to Cry Sometime" and Smokey Robinson and the Miracles' "Who's Gonna Take the Blame." In 1978, Ashford & Simpson wrote the inspirational song "I'm Every Woman" for Chaka Khan, which was later recorded by Whitney Houston in 1992. Their biggest hit as recording artists came in 1984 with the single "Solid (as a Rock)." Ten years later, in 2002, they were inducted in the Songwriter's Hall of Fame.
Valerie Simpson released her first solo album in 2012 called "Dinosaurs Are Coming Back Again," and in 2013, Simpson visited Berklee to perform in "Trouble Man," a musical about the life of Marvin Gaye that was scripted by Berklee students. After Ashford's death from throat cancer in 2011, Simpson established the Reach Out and Touch Award which honors her late husband and helps advance the careers of promising young songwriters.
On the eve of receiving an Honorary Doctorate of Music Degree from the Berklee College of Music, Simpson spoke to the Banner at Berklee's Commencement Concert at Agganis Arena. She talked about music, her daughters and the next chapter in her life, before she took the stage to perform "I'm Every Woman" backed by Berklee students.
Last year you were in Boston doing "Trouble Man." Would you consider doing something else on Broadway if the right part came along?
It's funny. Before Nick Ashford passed away someone was talking to us about our life story. Since then, he has come forward again to say they're still interested. There's a chance with any good fortune that our story will be told.
You worked together 10 years prior to getting married to Ashford. Did you know that he was the one?
I was just in my last year of high school when I met him. I think he considered me a little too green and not ready for primetime, even though we looked at each other and there was an initial attraction. On further notice, we both needed to grow and so therefore pushed all that stuff to the side. We could honestly get a truly working relationship which was really probably good. But still, I think if there's an initial spark it's always good if you push it to the side. I got married for two years. Most people don't know I was married for two years to a musician. Nick came and took pictures of my wedding. Who knew what was going to happen down the road?