Mayor Martin Walsh addresses resident questions in Roxbury forum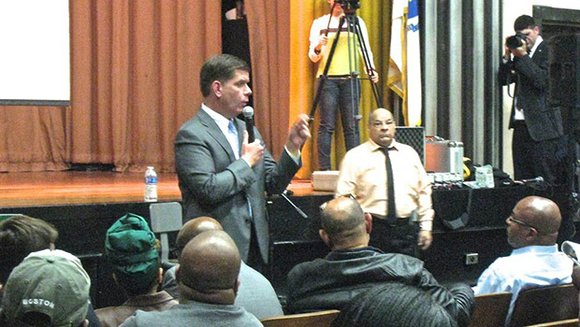 The girls' bathroom at Ellis School is appallingly dirty; who's in charge of keeping it clean? Will the city of Boston subsidize small homegrown business development? What is the city doing to create middle-income housing?
Mayor Marty Walsh fielded these and other questions Monday at a Roxbury town hall meeting. Attendees wishing to ask questions submitted their names at the start; if their names were drawn, they were called to the microphone during the hour-long Q & A session.
The forum at James P. Timilty Middle School was the second in a "Mondays with the Mayor" series, which started in March with a similar forum in Brighton.
Walsh brought along a fleet of cabinet members and city department heads and called upon them when questions touched on their expertise.
After the mayor promised that the filthy school bathroom would be cleaned this week, interim School Superintendent John McDonough urged the questioner to report such issues to him immediately, and agreed to look into her idea of using parents as cleanliness monitors. Walsh looked to District 7 City Councilor Tito Jackson to supply details to a resident asking about a past community meeting process that helped approve siting of a charter school.
Walsh said the city is working to increase summer and year-round job opportunities for teens, strengthen Madison Park High School, and attract light industrial and other employment opportunities to Roxbury.
"If we close the achievement gap for kids, but their parents have no place to work," he noted, "we're not solving the problem."
For the most part, the new mayor answered questions easily and directly or promised answers within 24 hours. A few responses were vague. The query about city government subsidies for small homegrown businesses, for instance, drew an answer more about putting city-owned vacant land parcels up for development and streamlining the permit process than about any plans to directly aid entrepreneurs.
Several questioners touched on a desire for more mid-priced and market-rate housing in Roxbury. Walsh mentioned plans to develop moderate-priced two- and three-family homes on vacant city parcels. David Price of Nuestra Comunidad asked how the mayor might leverage his State House connections to bring back state money for middle-income housing development, to which Walsh replied that state funds are now very hard to come by and non-profit community development groups should band together to tell the state more funding is necessary.
The format and short time left little room for follow-up or deep digging into issues. Having been in office only five months, Walsh was able to deflect criticism for situations stemming from before his tenure, and give assurances that his team will quickly address others. Few hot-button issues arose and the atmosphere of the meeting remained mostly mild.
An exception was a brief exchange about a recent Boston School Committee decision to cut "yellow bus" service next year for middle school students, putting 7th and 8th graders on public transportation (see page 1 story.) Questioner Charles Clemons, TOUCH 106.1 owner and former mayoral candidate, said this change would put youth at risk. As Walsh replied that a good number of students already take public transportation to school now and that officials are taking student safety into account, a few voices interrupted with "No!" and "That's not enough!"