Boston school parents blast plan to put 7th graders on T
Yawu Miller | 5/21/2014, 9:52 a.m.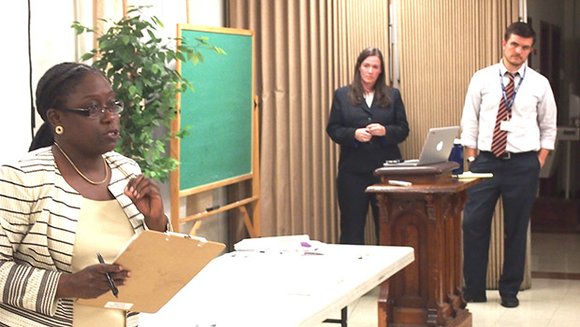 A controversial plan to transport 7th and 8th graders to school on the MBTA has many parents and education activists in Boston up in arms over what they say is an ill-conceived bid to trim the school budget.
Faced with a $100 million deficit in the $1 billion budget, school officials are planning to give the middle school students MBTA passes, trimming $8 million from the budget.
Parents contacted by the Banner say the plan would put young children at risk of bullying, harassment and worse.
"My daughter would be boarding an MBTA bus at the corner of Talbot Avenue and Blue Hill Avenue," said parent Sharon Jones. "There's a memorial in front of the pizza shop for a kid who was killed there."
From there, Jones' daughter would have to catch another bus at Grove Hall, get off at the corner of Blue Hill Avenue and Quincy Street, then walk nearly half a mile to Roxbury Preparatory Charter School on Magnolia Street.
"The school is public transit friendly, but not for a 12-year-old," Jones said, noting that prostitution is still commonplace on Blue Hill Avenue.
At an NAACP Boston Branch meeting Monday, parents aired their views, questioning the safety of putting 12- and 13-year-olds on buses when the MBTA is in the process of installing Plexiglass enclosures to protect the drivers.
"I want to make sure that the dollar amount you're saving is worth the safety of our children," parent Sean Daughtry said during the NAACP meeting."
Boston Public Schools Chief Operating Officer Kim Rice said the school department is currently implementing a comprehensive safety plan, collaborating with MBTA Police, Boston Police and Boston School Police and officials.
Part of the plan would involve the expansion of the Stopwatch Program, which deploys police and school officials to train stations and other areas where students are known to congregate.
"We want to minimize negative police interactions," said BPS Transportation Director Carl Allen.
But parents at the NAACP meeting said school department employees and police could not possibly provide enough personnel to monitor every MBTA bus with a student on it. Allen and Rice did not say how many locations the program could cover.
When asked whether the school department has developed an emergency response plan for incidents on MBTA buses, Rice said they have not.
"We don't have anything in place beyond the MBTA plan," she said. "When something happens on an MBTA bus, they will respond as they normally would."
The new transportation plan would add more than 4,000 riders to the MBTA system. MBTA officials are not currently planning on increasing bus service, Rice said.
Rice noted that 1,862 7th and 8th graders already use the MBTA to get to school. Some schools, like Boston Latin and Boston Latin Academy, provide limited school bus service. Other schools provide none. Additionally, middle school students who live within a mile and a half of their schools are not eligible for bus service.
Rice said the cuts, while not desirable, make the best of a dire budget deficit.
"This is the best of worst case scenarios," she said. "Given the fact that we already have kids on the MBTA, it seemed like the best option."
Rice said she and Allen have toured 20 schools to discuss the implementation of the plan.
"It has to work for each individual school," she stressed.
In schools that don't have easy access from MBTA stations, the school department may run shuttle buses, she said.
Rice and other school department officials will have to withstand questioning from the City Council in a meeting Thursday in the Iannella Chamber from 6 p.m. to 8 p.m. Community organizations have been contacting parents to weigh in during the meeting.
"The community is just starting to hear about what's happening, but it's not because of a concerted effort from the school department," said Ayelle Shakur, an NAACP member who facilitated the Monday meeting with Rice.