'Acis & Galatea' invokes ancient myth with powerful East Coast premiere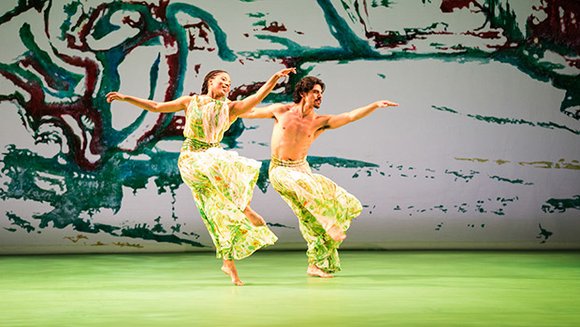 The spirit of spring animates the latest production of world-renowned choreographer Mark Morris, "Acis & Galatea." Mingling the arts of opera and dance, the new work had its East Coast premiere last week at Citi Performing Arts Center's Schubert Theater, presented by the Celebrity Series of Boston, which co-commissioned the work.
Performing on stage were the 18-member Mark Morris Dance Group and four soloists singing the opera's lead roles. Accompanying them in the orchestra pit were the 32 musicians and 18 singers of Boston's Handel and Haydn Society Period Orchestra and Chorus, conducted by Nicholas McGegan.
With clarity and simplicity, the production mines the timeless humanity of an ancient myth. The shepherd Acis loves Galatea, a river nymph, and she loves him. The monster Polyphemus also loves her, but she spurns him. In a jealous rage, he hurls a boulder at Acis and kills him. Galatea then summons her magical powers and transforms Acis into a stream that will flow forever.
With his long-time collaborators McGegan, scenic designer Adrianne Lobel, fashion designer Isaac Mizrahi, and lighting designer Michael Chybowski, Morris injects fresh contemporary spirit to Handel's 1718 operatic version of the tale and its 1788 arrangement by Mozart, who added clarinet, bassoon and horn.
Opera is a natural for Morris, the most musical of choreographers. As a director and choreographer, Morris mingles the irreverent with the sublime in inventive dancing that draws from natural, everyday movement — walks, leaps, runs, folk dance, even gym workouts — as well as modern and ballet traditions. He also has a knack for sly casting.
As the lovers, tenor Thomas Cooley (Acis) and soprano Sherezade Panthaki (Galatea) have marvelous voices but an unglamorous stage presence accented by workaday costumes — a short dress for Panthaki and Cooley's loose shirt and pants. Morris is making it plain that the transporting experiences of love and art are the business of ordinary human beings.
Surrounding these two and intertwining them in their circles are the dancers, as sleek and graceful as can be. While the lovers wear sturdy cotton clothing, the dancers wear gossamer fabric. Males and females alike wear diaphanous long skirts in a green camouflage print that echoes the set — a prop-free series of layered screens with brush-stroked images of woods and a rocky hillside reminiscent of Asian woodblock prints. Lit by Chybowski, they evoke a dappled forest.
As an opera, all the words are sung, not spoken, and the 1718 libretto by English poets John Gay, Alexander Pope and John Hughes was displayed as supertitles.
The dancers' movements often paint the words, and with music, chorus, sets, costumes and lighting in synch, the production ignites a thrilling mix of senses. The frequent repetition of passages in the music, words and choreography as they unfold in unison heightens the emotional intensity.
In the first act, the dancers swirl in a delirium of joy, pushing and pulling each other in pairs and clusters and winding and unraveling with astonishing fluidity and precision.
The singers' movements are choreographed too. Galatea, burning with love, blocks her ears as if to resist the charms of the chorus who sing of "happy nymphs and happy swains." Later, when Acis dies, she turns her back to the audience, bereft, a lone figure on a darkened stage.