John Van Surly DeGrasse: Boston's pioneering black surgeon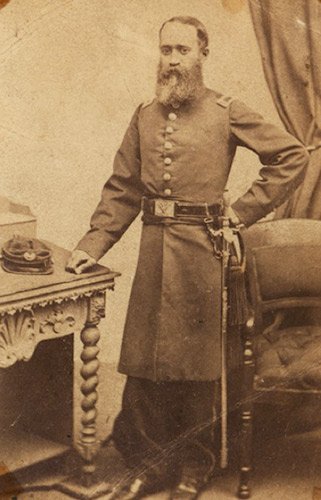 African American surgeon Dr. John Van Surly DeGrasse, between the years 1850 and 1860, was regarded as the most cultured and accomplished black in the world, according to historian William Henry Ferris.
The son of Count George DeGrasse and Marie M. Van Surly DeGrasse, he was born in June 1825 in New York City, where he attended private and public schools.
In 1840, DeGrasse studied for one year at the Oneida Institute, a Presbyterian school in Whitesboro, New York, founded in 1833 by abolitionist Beriah Green. The institute emphasized manual training and academic education and favored Greek and Hebrew Scriptures over Latin Classics. Since Latin was not taught there, DeGrasse departed for the Clinton Seminary, where he remained two years.
In the fall of 1843, DeGrasse had planned to attend college in the United States, but a friend persuaded him to spend two years taking courses in medicine at Aubuk College in Paris. He returned to New York in November 1845 and, for two years, studied medicine with Dr. Samuel R. Childs. He then traveled to the coastal Maine town of Brunswick, where he attended the Medical School of Maine at Bowdoin College. On May 19, 1849, DeGrasse acquired his medical degree with honors, becoming the second African American to graduate from a U.S. medical school.
In the fall of the same year, the doctor went back to Europe, traveling to England, Italy, Switzerland and Paris. While in Paris, he served as an assistant to the renowned French surgeon Alfred Armand Velpeau. Ferris noted that DeGrasse was an eminent black physician — "a polished and refined gentleman, whose culture had been ripened by studies in France and travels in Europe."
DeGrasse returned home to the United States aboard the ship "Samuel Fox" and initially set up his medical practice in New York. He soon moved to Boston and, on August 5, 1852, married Cordelia Lucretia Howard. One child, Georgiana Cordelia DeGrasse, was born of the marriage on December 5, 1855. By July 1853, DeGrasse had established a medical practice at 40 Poplar St. in Boston. He advertised it in William Lloyd Garrison's paper, the "Liberator."
About DeGrasse, abolitionist and historian William Cooper Nell on January 24, 1854, wrote, "Dr. John V. DeGrasse . . . skillful and faithful in his practice, though laboring under the obstacles that beset all young physicians, will soon, it is hoped, realize a reward for the labor and cost, which, in the Parisian hospitals and elsewhere, have qualified him for administering to the various ills that human flesh is heir to."
Seven months later, on August 24, 1854, having earned a favorable reputation by his skill and persistent effort, DeGrasse gained admission to the Massachusetts Medical Society, becoming the first African American to do so in the state. The following month, the "Boston Investigator" reported that it was probably the first time that such an honor was conferred on black man in the United States.
Commenting favorably upon his induction, another newspaper remarked that many of the city's most respected physicians consulted DeGrasse whenever medical advice was needed, and that the "Boston medical profession, it must be acknowledged, has done itself honor in thus discarding the law of caste, and generally acknowledging real merit, without regard to the hue of the skin."