Gugu Mbatha-Raw revels in her role as historical figure Dido Elizabeth Belle
Kam Williams | 5/14/2014, 11:06 a.m.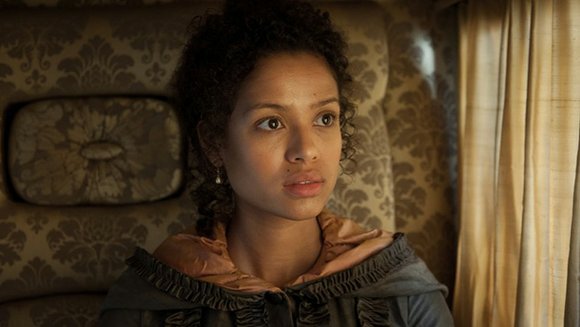 Born in Oxford, England on June 30, 1983, Gugu Mbatha-Raw trained at the Royal Academy of Dramatic Art in London. Her first professional role was as Celia in an open air production of Shakespeare's "As You Like It." She subsequently landed roles at Manchester's Royal Exchange Theatre where she performed the title roles of Cleopatra in "Antony and Cleopatra" and Juliet in "Romeo and Juliet," the latter opposite Andrew Garfield of "The Amazing Spider-Man."
Her other stage credits include the critically-acclaimed "Big White Fog" at the Almeida Theatre and David Hare's "Gethsemane," a production at the National Theatre that later toured the U.K. She made her West End debut as Ophelia in "Hamlet" opposite Jude Law, which was brought across the pond to Broadway in 2009 where it became a big hit at the Broadhurst Theatre.
Her television credits include "MI-5," "Dr. Who," "Spooks," "Marple: Ordeal by Innocence," "Bonekickers" and "Fallout." In 2008, she was selected as a 'Star of Tomorrow' by the showbiz industry magazine Screen International. A couple of years later, she starred as Samantha Bloom in the NBC-TV series, "Undercovers," for which she was nominated for an NAACP award for in the Best Actress in a Television Series category.
On the big screen, she found her first major feature film work in "Larry Crowne," directed by Tom Hanks and co-starring Julia Roberts, followed by "Odd Thomas" alongside Willem Dafoe. She also recently finished filming "Jupiter Ascending" with Channing Tatum and Mila Kunis.
Mbatha-Raw, who divides her time between L.A. and London, spoke to the Banner about playing the title character in "Belle," a biopic about Dido Elizabeth Belle, the orphaned offspring of an African slave and a British ship captain who was raised in 18th century England by her father's rich relations.
What interested you "Belle" and how did you feel about the idea of playing Dido Belle?
There were so many wonderful things that drew me to this project. First and foremost, the historical elements, the fact that this character really existed and that the script was inspired by a real painting. That was fascinating to me because, as a biracial girl growing up in England, I'd never really seen any historical characters who looked like me depicted on film before that weren't being brutalized or playing slaves. It was refreshing to know that there had been a biracial girl in the aristocracy. I felt that that was a perspective on history that had been so much overlooked, and a story that needed to be told. I was also drawn in by the romance, the beautiful love story at the core of the drama, having grown up with Jane Austen's classics like "Pride and Prejudice" and "Sense and Sensibility." I just thought that would be a fascinating period to explore. And besides being a period drama, we have so many contemporary themes in this film, such as race and class and gender and identity which, as is shown in the news nowadays, are still issues we're struggling with daily. So, I felt that Belle had a wonderful number of layers that made it a fascinating project.