Casinos reaching out to Roxbury residents
Yawu Miller | 5/14/2014, 10:24 a.m.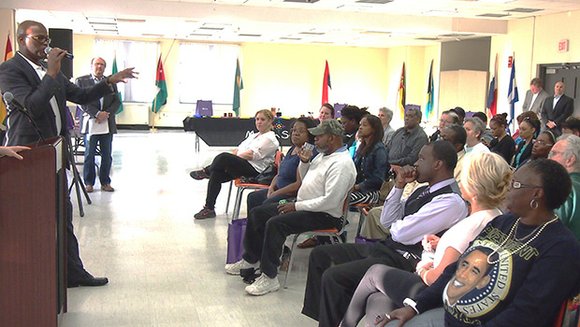 There are no safe bets in the push for a casino in the Boston area.
In November of last year, East Boston residents soundly rejected plans for a casino on the grounds of the Suffolk Downs race track in a neighborhood-wide ballot. Revere voters approved the plan and the city pushed forward with plans to build a casino on the 40 acres of Suffolk Downs located on their side of the municipal boundary.
That casino plan, advanced by Mohegan Sun is vying with a plan for a casino in Everett, being advanced by gambling magnate Steve Wynn.
Plans for casinos across Massachusetts may come to a halt if the state's Supreme Judicial Court rules in favor of allowing a question on the November ballot that would repeal gaming in Massachusetts.
With a potential vote looming, the potential of thousands of casino jobs and an ongoing public discourse on the negative effects of casinos on low-income communities — crime, addiction, foreclosures — black elected officials and black community organizations in Boston have been largely absent from the casino debate.
But the casinos have not been absent from the black community. In spite of the uncertainty, casino developers are pushing ahead with job fairs and vendor meetings in Revere, in Roxbury and in the cities and towns within a 15-mile radius of the proposed Suffolk Downs casino site. Under the Massachusetts casino law, 20 percent of a casino's jobs will go to residents of the host community and 75 percent to the communities within the 15-mile radius.
The casino plans for Everett and Revere would both include all of Boston in their respective 15-mile radii.
"You're within the 15-mile radius," Mohegan Sun executive Peter Schultz told a gathering of about 80 job seekers at Roxbury Community College last week. "It's good that you're here tonight."
While Mohegan Sun managers and executives gave an overview of the proposed Revere casino, managers of table games, slots, food services and other casino operations stood at the back of the room, prepared to answer questions from prospective job applicants.
In all, the casino plans to hire 4,000 people for operational jobs by the 2017 projected opening date.
In addition to job fairs in Roxbury and Dorchester, Schultz said Mohegan Sun is planning meetings with potential vendors about service contracts with the casino.
"It's about jobs and what we purchase in goods and services," he said. "The requirements that we do business with local vendors is unique to the Massachusetts casino law."
Whatever the economic benefits, the casinos will also bring social costs, opponents argue.
"Should casino gambling come to Massachusetts, the state will be creating new problem gamblers," said Laura Everett, executive director of the Massachusetts Council of Churches. "I'm not convinced that we've got the resources to deal with the increased foreclosures, increased crime and addiction. Our social service agencies and our churches can't absorb the thousands of gambling addicts that will be created with new casinos."
Everett and other casino opponents point to Atlantic City and Detroit, two cities where they say casinos have failed to spark economic development. They point to a different 15-mile radius around casinos — one where gambling addiction is five times more likely.