Advocates fighting cut to Massachusetts youth job funding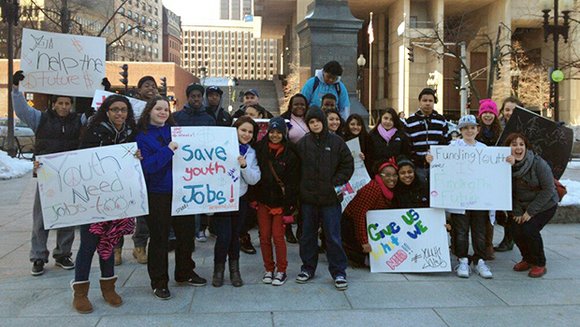 Last month, youth job advocates were put on high alert when the Massachusetts House proposed budget contained cuts in funding for youth job programs, despite a battle to keep the funding. Now the fight turns to the state Senate.
The House's $36.2 billion state budget proposal is slightly higher than the current fiscal year budget and $191 million less than Gov. Deval Patrick's proposed 2015 fiscal year budget. The House proposal increases funding for local aid to cities and towns by $25 million over the governor's proposal, with a $61 million boost to education through the community college and state university systems.
However, the House budget savings come at the expense of six youth jobs and violence prevention programs, cutting $13.5 million in funding from them. The cuts make the youth jobs situation even more dire considering most of these programs have traditionally received supplemental funding throughout the year just to keep running. Youth job advocates say the cuts could cost as many as 1,000 summer jobs.
In the House, state reps fought to stave off the cuts with several amendments filed to restore much of the funding, but the House leadership refused to consider them.
State Sen. Sonia Chang-Diaz said that losing funding for youth jobs and violence prevention programs is a big concern for her and she hopes to keep the funding in the budget to back them.
"Certainly these line items are hugely important to me and hugely important to the district I represent," Chang-Diaz said. "I will certainly be fighting really hard for these."
Chang-Diaz points out that last year the Senate proposed more funding for youth job and violence prevention programs, so there is hope that something similar will happen this year.
A big challenge, according to Chang-Diaz, is that while many people think the state has recovered from the recession there are still many areas covered by the budget that have not recovered and these areas are forcing budget cuts in programs, including those for youth jobs, that have proven their worth.
"It is extremely frustrating. It is frustrating for me, as a legislator, that we have to fight for this every year," she said.
The Boston-based Youth Jobs Coalition has been at the heart of the fight for funding. It is composed of 40 youth and community groups from across Massachusetts that work together to create more employment opportunities for teens. The coalition has helped secure over $50 million of funding for youth jobs since the organization was started in 2009. Every year, youth coalition members come together to meet with legislators and propose spending in Massachusetts budget line items that support youth jobs.
On April 29, the Youth Jobs Coalition descended on the State House in a show of force to back more funding for youth job programs. Another rally is planned for May 20.
The coalition is asking for funding for its MAWORK4TEENS Legislative Package, which includes $9.5 million for The Safe and Successful Youth Initiative, $12 million for Youth Works and $5 million for School to Career. These programs cover jobs for struggling teens, jobs in the community and private sector jobs.