Forum speakers urge black women to follow dreams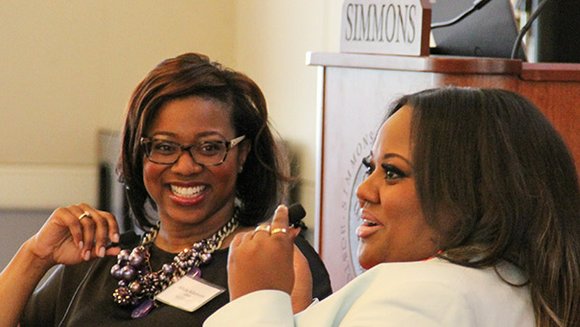 The Young Black Women's Society Inc., a nonprofit organization whose mission is to provide a platform for women and girls of color to further develop their personal, professional and civic lives, championed female empowerment with a forum on May 3, emphasizing themes of sisterhood and following passions.
The event was held on the campus of Simmons College and featured both morning and afternoon breakout sessions; a lunchtime keynote session titled "The Art of Networking" with Gail Jackson Blount of Jackson Communications; and a roundtable discussion, "Getting to Your All" with New England Cable News anchor Latoyia Edwards and Donna Levin, co-founder and vice president of operations for Care.com.
The day-long conference was attended by a wide range of women including current students and alumna from Simmons College, young women from the community and business professionals. The members of the Boston-based YBWS range in age from 23 to 43 years old and represent a diverse group of women from attorneys and business professionals to educators and health care practitioners.
The forum kicked off with a warm welcome from YBWS founder Alicia Adamson who began the nonprofit at the age of 23 in 2005. In her welcome remarks, Adamson said that the goal for the summit was to hopefully create an opportunity for women to have the internal dialogue on: "What does having it all mean to me?" In that spirit, the theme for the summit was "You Can Have it All as Defined by You."
Cheryl Howard, vice president of marketing and admission at Simmons College carried this message forward in her remarks by giving a personal account on how, as a young professional during the 1970s, other people were defining for women of that era what it meant for women "to have it all." Boston City Councilor Ayanna Pressley followed with her own passionate remarks about building sisterhood and collective empowerment. She began with the simple statement "I am your sister." This set the tone for her message of "encouraging our young people to be visionaries" and not so much dreamers, because a visionary takes action. She talked about the historical significance of what it means to be the first African American women on the city council and what it represents to the city. Pressley stated that the "true strength and power of diversity is diversity of perspective, opinion and thought." She ended her presentation by challenging the young women to "maintain bonds of sisterhood beyond these walls" and thanked YBWS for "lifting as we climb."
The morning continued with a "Fireside Chat" moderated by Adamson and featured special guest Natasha Eubanks, creator of the celebrity gossip website TheYBF.com, (which stands for The Young, Black and Fabulous). Eubanks talked about following her passion and how "change does not equate failure." Eubanks, who was an avid reader of celebrity/tabloid magazines began the site in 2005 at the age of 23, because she didn't see any celebrities of color represented in that arena. TheYBF.com first began as a blog and eventually morphed into a website while she attended law school at Loyola University in New Orleans. After her first year and dealing with the impact of Hurricane Katrina, and having to go to law school in Houston as a result, the thought occurred to Eubanks that "maybe I'm not supposed to be there." Natasha jettisoned her law career and focused on her passion for all things celebrity and entertainment. This was her defining moment where she took a leap of faith and allowed herself to flourish.