Anti-affirmative action activist targets Asians
Julianne Hing | 5/8/2014, 12:23 p.m.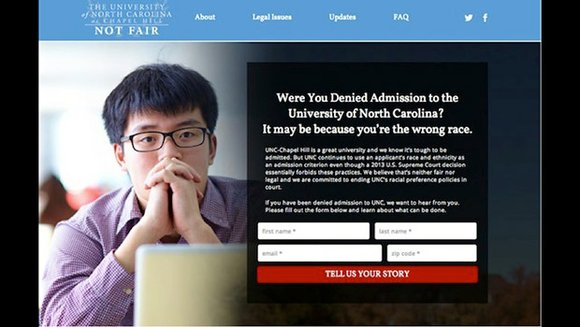 How do you know when you're a pawn in someone else's political game? Asian-Americans may soon be asking themselves that question. Edward Blum, an anti-affirmative action crusader and the executive director of the conservative Project on Fair Representation, unveiled three new websites in early April, and each prominently featured Asian faces.
"Were You Denied Admission to the University of North Carolina? It may be because you're the wrong race," reads one website, the copy on each website tailored to each university.
Blum launched these websites with two goals in mind: "to educate the public," he says, and to gather testimonials from students who've been denied admission to these three universities with an eye toward filing a lawsuit to challenge their affirmative action programs.
In its 2013 ruling on Fisher v. Texas, the Supreme Court established a new doctrine that schools must follow if they intend to use racial identity preferences in their admissions system.
According to Blum, that doctrine is one of "strict scrutiny," which requires that universities show that they've exhausted all race-neutral avenues before considering race when compiling their incoming classes. Blum says that all three universities violate that standard.
Part propaganda, part casting call
The new websites are a direct appeal to the Asian-American community to join the next phase of the decades-long legal fight to dismantle affirmative action programs in higher education. Given the social and political marginalization of Asian-Americans, this kind of prominent placement is far from incidental, says Jennifer Lee, a professor sociology at the University of California at Irvine.
"He's doing an excellent job of using Asian-Americans as a wedge to oppose race-conscious admissions," Lee said.
Blum disagrees that by propping up Asian-Americans as victims of affirmative action, he's using them as a political wedge in an undeniably racial debate.
"I think that assertion is misguided," Blum says. "I've always used Asian-American pictures, along with those of whites, blacks and Hispanics," Blum says, pointing to the website UTnotfair.org, which he launched in 2007.
Of his latest campaign, Blum said, "Some of the pictures are obviously Asian but some are obviously indeterminate
Asian-Americans are stereotyped as universally successful, wealthy and high-achieving, and therefore make for a compelling foil to the experiences of African-Americans and Latinos.
"Asian-Americans have been used over and over and over again to make the point that racism is not an insurmountable disadvantage if you're willing to just shut up and put up and work hard enough to succeed," says Scot Nakagawa, senior partner at the racial justice think tank ChangeLab.
Blum's campaign carries the stereotype a step further by implying that not only is affirmative action unnecessary but that it harms Asian Americans while unfairly advantaging other groups like African-Americans, Latinos and Native-Americans.

"It's outrageous," says Vincent Pan, the executive director of the San Francisco-based Chinese for Affirmative Action. "For a group that purports to promote the ridiculous notion of colorblindness, the fact that they're featuring Asian faces demonstrates their own hypocrisy."
Are Asians victims in the admissions game?
Blum insists that affirmative action should be dismantled because it hurts Asian-Americans.