Candidates for 5th Suffolk seat debate issues at forum
Yawu Miller | 3/26/2014, 10:28 a.m.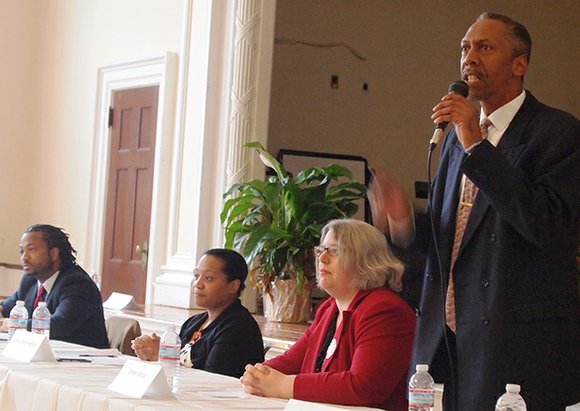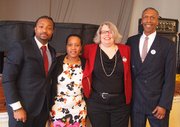 The forum for the 5th Suffolk District could have ended at the candidates' opening statements. The auditorium at the First Parish Church was packed with supporters of the four candidates who showed at the forum with no discernable undecideds in the room.
With little separating the Democratic candidates on policy issues, each delved into their back stories and work experience to distinguish themselves.
Evandro Carvalho came to Dorchester from Cape Verde knowing no English, graduated at the top of his class at Madison Park High School before pursuing a career in corporate law that he ended to return to the Dorchester community to be of service.
Karen Charles Peterson grew up in the district, has had experience in city and state government and wants to work on safer streets, support small businesses and enhance the local public schools.
Jenifer Johnson moved to Dorchester 20 years ago, drawn by the neighborhood's racial and economic diversity. She's on the board of the Bowdoin Geneva Main Streets organization and sees economic opportunity as the key to solving the 5th Suffolk District's problems with crime and a lack of affordable housing.
Barry Lawton's extensive experience in the State House has given him an edge over the other candidates — he's the only one who has written legislation and shaped the laws that govern the Commonwealth.
Questioned whether they approves lifting the cap on charter schools, thereby reducing funding going to Boston's public school system, most of the candidates said they favored increasing funding for both charter and public schools.
"As the debate over charters goes on, the funding is still decreasing," Lawton said.
"It's not a yes or no answer," Charles Peterson said. "We need to ensure that all of our children who live in Boston get a quality education.
Johnson noted that teachers are still required to pay for classroom supplies out of pocket and that the city's per-pupil expenditures lag behind per-pupil spending in Brookline.
Lawton, a former teacher, stood alone in opposing lifting the cap on charter schools.
On the issue of gun violence, Johnson drew from recent experience, noting that a car in front of her house was shot 20 times recently, before advocating for a gun buy-back program. Lawton, who lives next door to Johnson, referenced the same shooting, before advocating for fingerprint recognition technology that would prevent a gun from being fired by anyone other than its owner.
Carvalho, a former Suffolk County prosecutor, advocated more funding for youth programs to keep teens from picking up guns in the first place.
On jobs, Lawton promised to work with federal and state agencies to help the district's small businesses expand.
Carvalho said he would work to increase the minimum wage, noting that his mother worked three jobs but could not afford to buy a home in Dorchester.
Charles Peterson said she would work with the district's immigrant community to help them open new businesses.
Johnson suggested zoning laws, which currently favor local businesses, could be re-written to allow for national chains to open stores in the Bowdoin Geneva area.