Startups lured to Oakland by low rents, skilled workers
Barbara Grady | 3/21/2014, 6 a.m.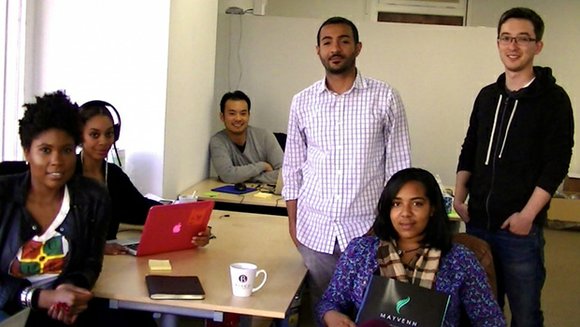 Oakland-based Mindblown Labs put gaming into education and garnered the largest Kickstarter campaign for any mobile game ever. E-commerce site Mayvenn found an unserved market and is growing 40 percent to 60 percent a month in revenues, and GroupFlix is already being described as another Netflix, prelaunch.
These tech startups are all in Oakland. And they were all started by African Americans.
There's a burgeoning tech industry in Oakland, with a host of startups joining a dozen midsize tech companies and Oakland's two technology giants, Pandora and Ask. Oakland is becoming a place where tech happens, not on the scale of San Francisco or Silicon Valley, but enough to be a contender when startups figure out where to locate.
What's more, and a potential game changer in technology, is that Oakland's tech industry appears to be more diverse than the largely white male and Asian male tech industries across the bay and down the peninsula, based on the concentration of startups by people of color and women in the small tech eco-sphere here. SleekGeek was started by a Latina, XEO Designs by a woman, 2Locos by a team finding that their Latino lifestyle tastes are unanswered on e-commerce sites.
Also, startups in Oakland are often driven by a social mission. Mindblown Labs aims to teach youth about financial literacy. GoldieBlox, started by women, hopes to inspire young girls to become engineers. Qeyno Labs, started by another African American, is a career discovery game for underserved kids needing mentors. Solar Mosaic is making solar electricity affordable for regular people and nonprofits. Impact HUB Oakland is providing a collaboration and innovation workspace for multicultural tech endeavors. SleekGeek hopes to get kids more engaged in learning science through mobile apps.
"You see a lot of education startups planting roots here and some other social impact oriented startups, so you have a differentiating number here," said Jason Young, co-founder of Mindblown Labs as well as the Hidden Genius Project, which teaches coding to young African Americans. "It doesn't hurt that we have Kapor Capital and New Schools Venture Fund." Both are venture capital firms interested in funding initiatives that widen opportunity.
It's also no accident that his nonprofit the Hidden Genius Project is located in Oakland, or that Black Girls Code which teaches young girls to code, moved to Oakland. In fact, President Obama invited two Oakland tech entrepreneurs to his "My Brother's Keeper" initiative launch, along with Oakland's mayor.
At a time when the tech industry is sometimes vilified as elitist and indifferent to the housing needs and community ties of the average Bay Area worker, Oakland may be spearheading a more inclusive chapter in technology industry growth. The firms mentioned above are just a partial list of those started by people outside of the usual tech demographic.
But for Oakland's tech industry to continue to grow, and do so in the quintessentially Oakland way as a diverse and social mission driven sector, will take intention, many experts say.
"Oakland is still iterating, the story is still largely being written," Young said. "In terms of maintaining diversity and social impact, that definitely has to be nurtured," he said. Otherwise, it could just be a San Francisco spill over.