Roxbury forum examines 1960s anti-highway fight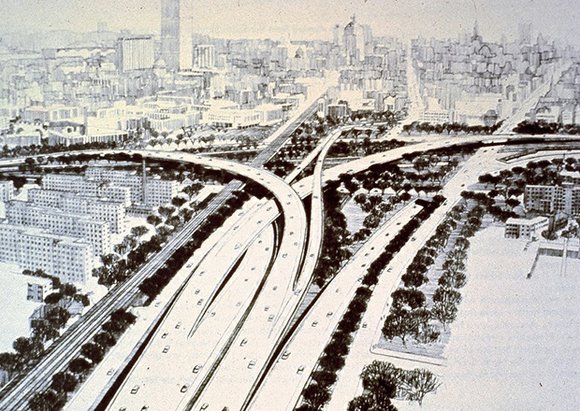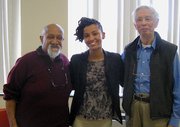 A recent Roxbury Community College forum brought together a newly-minted Yale doctor in American studies and two elder statesmen of local activism to discuss the victorious 1960s grassroots action to block an eight-lane highway that would have torn through Roxbury, Jamaica Plain, the South End and Cambridge.
Karilyn Crockett, Ph.D., whose 2013 doctoral dissertation "People Before Highways" covers the historic struggle, gave a presentation tracing the community-led fight against the extension of I-95 through city neighborhoods.
"As a person born after the Civil Rights Movement, I didn't live these stories, but I certainly benefit from them," Crockett began. The Dorchester native may be best known locally as the founder and long-time director of MYTOWN, or Multicultural Youth Tour of What's Now, a nonprofit organization that hired and trained public high school students to research local and family histories and lead walking tours of their Boston neighborhoods. Over 15 years, MYTOWN created jobs for more than 300 teenagers. The organization was commended by the National Endowment for the Humanities in 2003 as one of the 10 best youth humanities programs in the nation. Crockett is currently a visiting scholar in urban studies and planning at Massachusetts Institute of Technology.
For her dissertation, Crockett spent several years researching the anti-highway movement and interviewing key players, asking what happened, how it became successful and who was involved.
"This story deserves to be told," she said. "There was a lot at stake for people. It wasn't just about stopping a highway. It was about making decision-making and governance really reflect the will of the people."
Though the highway was never built, hundreds of businesses and homes had already been demolished in its proposed path, leaving a wide swath of destruction, especially in Roxbury.
Her slide presentation included maps and photos of the road's planned route and the land clearance that displaced residents and businesses. She showed a January 1969 gathering of thousands of people at the State House to push then Governor Francis Sargent to stop the plans. Resistance had been bubbling up for some time toward the "monstrous, large-scale project," but 1969 marked a turn toward greater media and public attention.
Crockett traced three intertwined elements of the era: an urban planning field in crisis that began to question the trend of bypassing urban centers for suburbs; a multitude of 1960s Civil Rights and protest movements; and ordinary residents demanding the right to participate in processes involving their own neighborhoods.
All of these elements played a role in the successful fight, and in 1970, Gov. Sargent finally admitted the plan was wrong. He placed a moratorium on new roads inside Route 128, and by 1972, the I-95 urban extension plans were dead.
A 1973 provision of the Federal-Aid Highway Act (originally called the "Boston Provision" because of its origins in this project) allowed cities to use federal highway funds for public transit and open space projects when new highway plans were successfully opposed. This provision is why we now have an extended MBTA Red Line, new Orange Line/commuter rail tracks and stations, and the Southwest Corridor Park's gardens, playgrounds and walk/bikeway, she said, though she noted that numerous cleared lots remain vacant, their futures still up for grabs.