Local entrepreneurs see profits in 'virgin hair'
Shanice Maxwell | 3/6/2014, 6 a.m.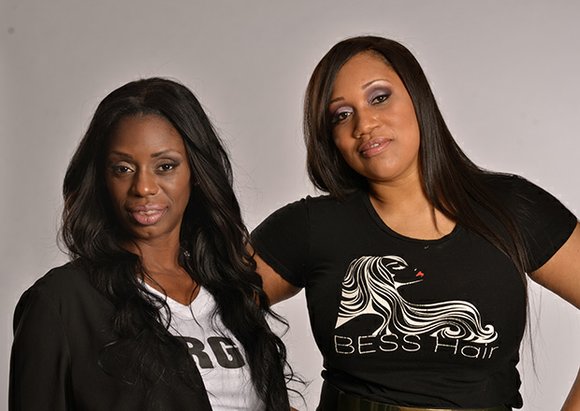 The statistics are overwhelming: startup businesses tend to fail in their first year. But Boston-based businesswomen Labelle Armstrong of Hyde Park and Rena Graham of Dorchester have withstood that initial test with luxury virgin hair extension company BESS Hair.
It's been three years since its start in 2011, and founders Armstrong and Graham are finally growing accustomed to the positive reception and recognition in the community they're receiving.
With a booming base of over 20,000 in their online network, longevity is just one element of confirmation that they've made the right decision in the face of many challenges.
"Juggling our careers, families, school and personal lives with a business to run are difficult but not impossible," Graham said. "Even with the pressures of customer demands and housekeeping, I love being a business owner. I wouldn't change it."
"At first, finding funding and networking were some of our biggest challenges because of our industry," said Armstrong.
The perks of being a business owner are endless, and far outweigh the cons for BESS Hair, so it all balances out, she added.
"You're able to control your own destiny, where you're going and where your product is going," she said. "You're able to create opportunities to empower and teach others, like our plan to do Bess Hair University, and do it. Recognizing a need and having the capability to go in that direction to meet it is wonderful. Whereas, sometimes if you're not a business owner you're going off of the mission statement of someone else or another company but, no, now we create our own."
By day Armstrong is a construction worker and Graham is a hair stylist. At first glimpse, the idea of joining the hair industry might have seemed far-fetched, but nothing seems unachievable for this driven, determined pair of longtime friends. In fact, the perceived difficulty in launching such a company, one that provides virgin hair products, hair care of all types and textures and versatility in styling, was all the more reason to embark upon this venture.
"Passions aren't meant to be denied — simple," Graham said.
It hasn't exactly been a walk in the park for the business partners, but even with obstacles that come with creating a startup business in a competitive industry, BESS Hair continues to rise in popularity and respectability by those who know, love and value top-of-the line hair.
"Our product is 100 percent virgin hair meaning it has been untouched and unprocessed," said Armstrong. "We deliver a high-quality product with a price that is right in the middle of most of our competitors. All hair is not created equal and quality costs. Understanding this, BESS Hair provides a wide selection that can be worn by all ethnicities. We carry anything from very coarse to a silky soft texture and we make sure all of our customers hair care needs are met."
In addition to the popular hair extension and cosmetic services offered by BESS Hair, the company has been scoring points for using women of color as models for its products.