Montreal's renowned 35th annual International Jazz Festival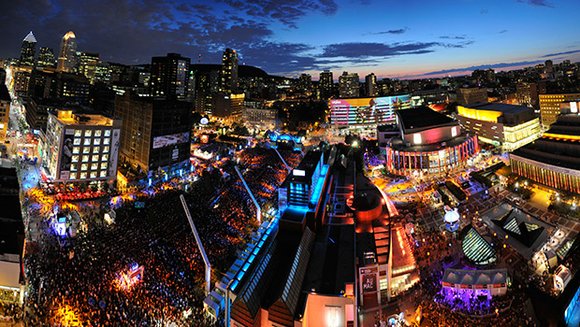 Thirty-five years in the making, this year's Montreal International Jazz Festival features a stellar line-up of first-time and returning musicians and artists from around the globe.
The Festival offers a variety of shows and performances, from world-renowned singers, pianists, composers and entertainers, for music-lovers of all ages and genres. Literally, there's something for everyone.
Presented by TD in collaboration with Rio Tinto Alcan, the annual music festival is set in the heart of downtown Montreal, the Quartier des Spectacles, and officially begins Thursday, June 26 with several performances, including trumpeter Roy Hargrove who, in a rare appearance, opens the "Jazz dans la nuit" series. The festival runs through Sunday, July 6 with both indoor and outdoor festivities, and features almost 500 concerts daily from noon until midnight.
The Montreal International Jazz Festival also offers a range of entertainment such as the new Rio Tinto Alcan Family Club, which is a brand new area offering menus, arts and crafts, and various other activities created for children.
The Festival presents its very first ever major free outdoor show with jazz pianist and singer Diana Krall on Sunday, June 29. This is the final performance of the British Columbia native's "Glad Rag Doll" tour, whose album concept of the same name was inspired by three concerts she performed at the Festival in 2011.
The Festival began in 1980 with eight concerts and was inaugurated by none other than Ray Charles. Over the years, the Festival that began with jazz music has expanded into almost every musical genre imaginable including pop, R&B, blues, rock and hip hop. The festival has featured the likes of Ella Fitzgerald, Dizzy Gillespie, Sarah Vaughan, James Brown, B.B. King, the late salsa queen Celia Cruz, Sting, Cape Verdean singer Cesário Évora, Norah Jones, Bob Dylan, Prince, Esperanza Spalding, and the list goes on!
This year's lineup proves no less impressive, with several returning artists such as jazz singer Cassandra Wilson and Grammy Award–winning Beninoise singer-songwriter and activist Angélique Kidjo. Both women take the stage on June 26. Wilson is in the midst of celebrating the 20th anniversary of her debut album "Blue Light til Dawn" and you can catch her at Théâtre Maisonneuve. Kidjo kicks things off with songs from her latest album, Eve, written in tribute to the women of Africa "for their resilience and their beauty" at the venue Métropolis.
On June 27, one of the 'Grandes Dames' of jazz, Dianne Reeves, presents her new album, "Beautiful Life," her first in five years. The album showcases Reeves' vocal prowess by "melding elements of R&B, Latin and pop within the framework of 21st Century jazz." 
Three shows to look out for on June 28 include Toronto trumpeter Alexis Baro, who was discovered at the Festival in 2008, and blues and folk singer/guitarist Ben Harper (who made his first appearance in 1996), accompanied by living blues legend and harmonica master Charlie Musselwhite.
If neo-soul, rock and funk is more your thing, catch Atlanta native Cody ChesnuTT at Club Soda. Another electric show takes place on June 29 with singer and songwriter Elvis Costello, who makes a return appearance after an eight-year absence for a solo performance.