Bishop Chibly Langlois, the First Haitian cardinal draws crowds during Boston visit
Yawu Miller | 6/25/2014, 11:05 a.m.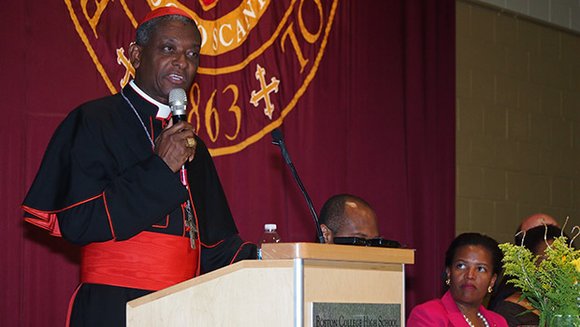 When the Vatican announced that Haitian Bishop Chibly Langlois would be elevated to the College of Cardinals, like many Haitians, Ednor Altidor was ecstatic. After all, in the 500 years of Catholic history on the island there had never been a Haitian cardinal.
Then Altidor, a lifelong Catholic who is active in St. John the Evangelist church in Cambridge, was selected as part of a delegation of 22 Haitians invited to attend the ceremony where Langlois and 18 others were elevated in the Vatican's St. Peter's Basilica. There, he stood a mere 10 feet away as Pope Francis, Langlois and the other newly minted cardinals proceeded into the basilica.
"I was speechless," says Altidor, a Certified Nursing Assistant who lives in Cambridge. "I couldn't talk. I couldn't believe I was a witness of this. It was the best day of my life."
Sunday, Altidor was among the estimated 1,400 Haitians who gathered at the Our Lady of Perpetual Help Basilica in Mission Hill to hear Langlois lead mass during his first appearance in Boston as a cardinal. With the basilica at capacity, many worshipers had to wait outside for a glimpse of Langlois.
"Every Haitian in every community wants to see the cardinal," Altidor said. "He's in demand."
Langlois is touring Haitian communities in the United States to raise funds for retired Haitian priests, who receive no pension and often live in dire poverty at the end of their lives. Sunday evening, a mostly Haitian crowd of gathered at the Boston College High School gymnasium for a fundraiser.
Speaking in English and Haitian Creole, Langlois thanked the gathering for their generosity in supporting retired priests.
"You make me feel loved," he told the audience. "You make your priests feel loved."
The turnout for the fundraiser – more than 700 – was formidable, given the fact that it was planned just weeks before. But it wasn't surprising, according to state Sen. Linda Dorcena Forry, who sat at the head table with Langlois.
"The Haitian people are really faithful," she said. "There's a large Haitian Catholic polulation and this is the first Haitian Cardinal ever."
Earlier in the day, in a sermon during his mass in Mission Hill, Langlois urged the overwhelmingly Haitian gathering to work together to overcome divisions between Haitians in the Greater Boston area.
Back in Haiti, political divisions have occupied much of Langlois' time, as he has worked to bring together the government of President Michel Martelly and opposition parties. Martelly's government has not held elections for the Haitian Senate during the three years he has been in power, despite a dwindling number of senators who could block the body from having a quorum.
During mass Sunday, Langlois referenced the conflict, telling parishioners, "If this year we are not able to organize elections, we will be in trouble."
In a country where an estimated 85 percent of the population is Catholic, Langlois is an imposing figure as the highest ranking religious figure in the nation.
"He's an important figure, not just for Catholics, but for all Haitians," said Yves Caljuste, executive producer of the Multicultural Television Network in Randolph.
An estimated 60,000 to 100,000 people of Haitian descendants live in Massachusetts. Many attend Haitian Creole mass in churches from Lynn to Brockton.
Langlois, 56, was the youngest of the 19 elevated to cardinal in February. He was born to a poor family in Vallee in southeast Haiti. He attended the Grand Deminaire Notre-Dame in the capital city of Port-au-Prince in 1985.
Langlois was ordained a priest for the diocese of Jacmel in 1991. He studied at the Pontifical Lateran University in Rome from 1994 until 1996 and was appointed bishop of Les Cayes by Pope Benedict XVI in 2011.
In addition to the mass and fundraiser, Langlois visited Haitian Americans during his stay in the Greater Boston area, including a visit with 100-year-old Marianne Mathurin, Dorcena Forry's grandmother. Like Langlois, Mathurin grew up in Vallee.
"He prayed for my grandmother," Dorcena Forry said. "They sang songs and told jokes. He's a very nice man. Very humble."