Busing forum bridges decades-old divide
Yawu Miller | 6/25/2014, 11:03 a.m.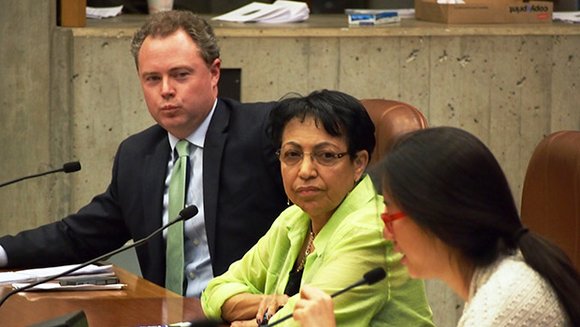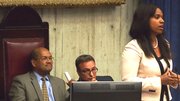 For many whites in Boston June 21, 1974 marks the beginning of forced busing, the day Judge Arthur Garrity issued the ruling that put the majority of the city's school children on yellow school buses.
For many black Bostonians, the date denotes court-ordered desegregation, a key development in a centuries-long fight for equal access to education and public resources.
"Busing is not the issue," said Cambridge College professor Lyda Peters, speaking during a City Council hearing on desegregation in Iannella Chamber last week. "Busing is a means of transportation."
The different phrases blacks and whites use to describe desegregation underscores vast differences of opinion about the tumultuous chapter in the city's history – differences that still flare up in the public sphere.
In April, when city Councilor Charles Yancey filed a motion in council to commemorate the 1954 Brown v. Board of Education decision, East Boston Councilor Sal LaMattina, South Boston Councilor Bill Linehan and at-large Councilor Steve Murphy refused to sign on. In remarks to the Boston Globe, Murphy cited the connection between the landmark civil rights decision and busing in Boston.
Yet last week, LaMattina was there in the Iannella Chamber, reflecting on his own experiences of the desegregation era in a rare dialogue about race with his colleagues.
"As a white politician, I was always told we don't talk about busing," LaMattina said. "We are a better city than we were 40 years ago."
The City Council hearing was organized by the Boston Busing Desegregation Project, an initiative of the Union of Minority Neighborhoods aimed at encouraging conversation about the city's tumultuous history of desegregation in the 1970s.
The hearing was not particularly contentious, but only the three black councilors -- Ayanna Pressley, Tito Jackson and Charles Yancey -- and LaMattina commented. Councilor Matt O'Malley attended a portion of the meeting. Murphy sent an aide.
Donna Bivens, project director of the Boston Busing Desegregation Project for the last four years, said whites have had difficulty understanding how blacks see desegregation.
"A lot of whites don't want to talk about racism," she said. "You can't talk about education in Boston without talking about racism."
As Peters noted in her testimony, blacks in Boston had sought equal access to schools in the city as early as the 18th century. In the 1850 court case, Roberts v Boston, Benjamin Roberts fought the city for the right to send his daughter to an all-white school that was closer to his home than the underfunded, all-black Abiel Smith School where she was enrolled.
Although the state Legislature outlawed segregation in 1855 in reaction to the Roberts case, Boston's school system became re-segregated when segregation increased in the city's neighborhoods. At the same time, blacks were effectively locked out of jobs as teachers, custodians and administrators in the school system.
Jobs and educational resources were tightly controlled by a school committee that openly defied the state's anti- segregation laws. By 1974, black classrooms were overcrowded with many schools holding classes in basement rooms.