Mayor endorses Sheriff Tompkins
Walsh, electeds turn out for Tompkins' campaign office opening
Yawu Miller | 6/19/2014, 3:29 p.m. | Updated on 6/19/2014, 3:29 p.m.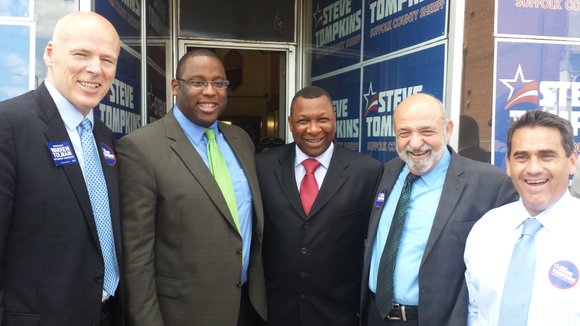 Mayor Martin Walsh endorsed Suffolk County Sheriff Steve Tompkins during the official opening of the incumbent's Dudley Square campaign office Thursday.
Walsh praised Tompkins for his efforts to reduce recidivism and expand treatment for addiction among inmates in the Suffolk County jail and urged Tompkins' supporters to work hard in a race where the sheriff appears an early front runner.
"Don't believe the polls," he said. "We need to work hard."
Walsh's endorsement of Tompkins is the third he's made since becoming mayor. He endorsed state Rep. Dan Cullinane, a former staffer and Warren Tolman, who is running for state treasurer.
Tompkins pledged to continue his efforts to provide inmates with opportunities to turn their lives around.
"We will reduce recidivism," he said. "We will make families whole."
Veteran campaign worker Clifton Brathwaite will is heading Tompkins' campaign office and will keep the office open from 7 a.m. till 9 p.m. every day, Tompkins said.
Attending the endorsement were several prominent elected officials and political operatives in Boston's black and Latino community: city councilors Tito Jackson and Frank Baker, former state senator and candidate for attorney general Warren Tolman, former at-large City Councilor and candidate for Suffolk County Register of Probate and Family Court Felix D. Arroyo, former Democratic National Convention CEO and candidate for lieutenant governor Steve Kerrigan and Ward 12 Democratic Committee co-Chairwoman Victoria Williams.