Blacks, Latinos, Asians cite gains in Democratic Party
Yawu Miller | 6/18/2014, 10:24 a.m.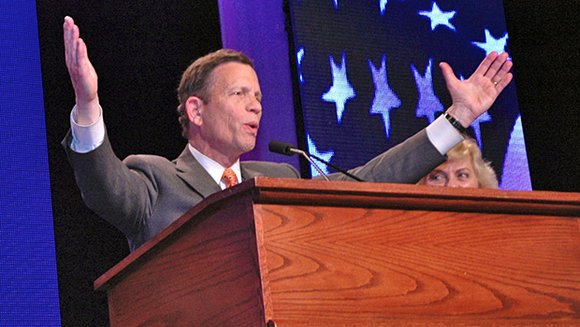 When candidates for statewide office stepped into Worcester's DCU Center for the Democratic State Convention Saturday, most were accompanied by paid staffers who were black, Latino or Asian.
And the three candidates who passed the threshold of 15 percent of the delegates' votes — State Treasurer Steve Grossman, Attorney General Martha Coakley and health care executive Donald Berwick — have been regulars at events in communities of color, including the social events sponsored by the Black Democratic Caucus and Latino Democratic Caucus Friday night.
"We're definitely seeing more activists of color within the Democratic Party," said delegate Chi Chi Wu.
Wu attended a meet-and-greet function for Asian American delegates to the convention two weeks ago that demonstrated candidates' newfound appreciation for communities of color.
"All the statewide candidates showed up," she said.
The contrast between this year's race for statewide office and years past is remarkable, longtime Democratic activists say. 
"You see it in all the campaigns," said South End resident Jovita Fontanez, who got involved in party politics in the late 1970s. "They're all looking for support from Latinos, Asians and blacks."
Political strategist Ryan McCollum attributes the increased participation of people of color to Gov. Deval Patrick's 2006 and 2010 campaigns for the corner office, which brought many previously politically uninvolved people into Democratic Party politics. In '06, Patrick's campaign mounted an aggressive push to seat supportive delegates on ward committees across the state, a strategy that helped him win the party's nod in that year's convention.
"It was part of the governor's legacy that he brought a lot of people in, especially black folk," McCollum said.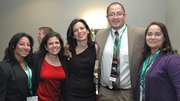 Other factors that have pushed the party to embrace people of color include Coakley's 2010 loss to former state Sen. Scott Brown in the special election for the U.S. Senate and the 2012 Elizabeth Warren campaign for the U.S. Senate.
Coakley's loss after a lackluster campaign underscored the importance of reaching out to the Democratic Party's urban base in black and Latino communities where typically more than 90 percent of voters back Democratic candidates.
Warren's 2012 campaign to unseat Brown stood in stark contrast to 2010. Black, Latino and Asian activists played major roles in her campaign as volunteers, advisors and paid staff, and helped boost turnout in their staunchly Democratic bases. Many of those Warren staff and volunteers of color found work in this year's statewide campaigns.
As much as the landscape has changed for black, Latino and Asian delegates, some see the diversity of campaign staff as just first step toward changing the political landscape.
"It's definitely getting more diverse, but we still have a long way to go," said Fitchburg Mayor Lisa Wong. "I would love to see more candidates and more elected officials who are young and of color."
Cambridge City Councilor Leland Cheung, who secured a spot on the ballot in the race for Lieutenant Governor, is the sole person of color running for statewide office this year.
Grossman walked away with the lion's share of the delegates in Saturday's balloting, garnering 35 percent of the votes. Coakley had 23 percent and Berwick had 22 percent. Failing to make the ballot were former Homeland Security official Juliette Kayyem, with just 12 percent of the delegates' votes and biopharmaceutical executive Joe Avellone, who had just 7 percent of the votes.
Three candidates for lieutenant governor made the cut: Steve Kerrigan, a former aide to U.S. Sen. Edward Kennedy and former CEO of the Democratic Convention; Mike Lake, a former United Way of Massachusetts Bay director; and Cheung.
Former state Sen. Warren Tolman and former Assistant Attorney General Maura Healey will both appear on the ballot for attorney general. Candidates for state treasurer who will appear on the Democratic ballot will be former Brookline Selectman Deborah Goldberg, state Rep. Tom Conroy and state Sen. Barry Finegold.
Secretary of State William Galvin and State Auditor Suzanne Bump are running unopposed in the Democratic Primary and both received the party's endorsement.