A healthy vegetarian meal
South of the Border Beans and Rice
6/16/2014, 3:13 p.m.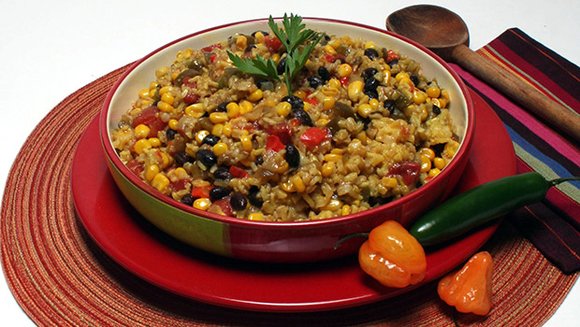 This recipe combines brown rice with bell peppers, corn, tomatoes and black beans. Using brown rice increases nutritional benefits. Unlike white rice, brown rice retains its outer layer of bran and its germ. This results in more fiber and nutritional value. Brown rice also has a mild nutty flavor, as opposed to the bland flavor of white rice.
The bell peppers, beans, corn and tomatoes add texture and color. In fact, the black beans actually make this dish a vegetarian meal. A bit of cumin provides a hint of Mexican flavor. The aromatic turmeric comes from a plant that is a member of the ginger family and adds an appealing subtle yellow coloring along with its flavor. You can customize this dish by adding either mild or hot chiles to obtain the amount of zesty heat you like.
Round out this vegetarian entrée by adding your favorite green salad and fresh fruit for dessert. This rice also makes great leftovers or side dish. Simply refrigerate in a tightly covered container and reheat within the next day or two to enjoy it again.
Ingredients
1 tbsp. extra virgin olive oil
1 medium green bell pepper, seeded and chopped
1 medium red bell pepper, seeded and chopped
1 medium onion, chopped
4 cloves garlic, minced
16 oz. reduced-sodium vegetable broth
1 cup uncooked brown rice
½ tsp. cumin
⅛ tsp. turmeric
1 can (15 oz.) black beans, drained and rinsed (or use no salt added)
12 oz. corn kernels, no salt added canned, or frozen, thawed
1 can (4 oz.) mild green chiles, diced
1 can (14 oz.) diced tomatoes, drained
Salt and freshly ground black pepper to taste
Instructions
In medium pot, heat oil over medium high heat. Add peppers, onion and garlic and sauté for about 4 minutes.
Stir in broth, rice, cumin and turmeric. Bring to boil. Reduce heat, cover and simmer for 45 to 50 minute or until rice is tender (do not stir during this time).
Then gently stir in beans, corn, chiles and tomatoes. Heat through and let stand 5 minutes.
Season to taste with salt and pepper and serve.
Makes 8 servings
Per serving:
Calories: 220 calories
Total fat: 3 g (0 g saturated fat)
Carbohydrate: 42 g
Protein: 7 g
Dietary fiber: 6 g
Sodium: 70 mg
Source: American Institute for Cancer Research