'Eugene Onegin' brings Pushkin's work to life at Emerson/Cutler Majestic Theatre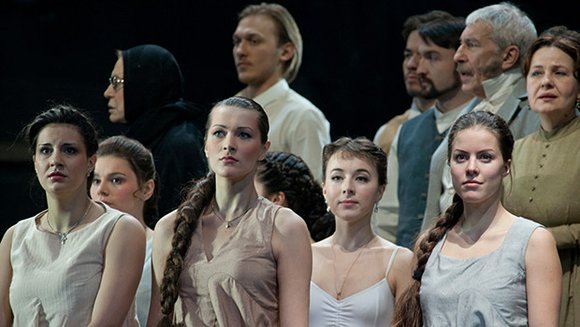 The ravishing production of "Eugene Onegin," at Boston's Emerson/Cutler Majestic Theatre last weekend translated the poetry of Alexander Pushkin's classic Russian novel to the stage.
Performed in Russian with English subtitles, the three-and-a-half hour production combined acting, music, dance and stagecraft to render Pushkin's tale of anguish with its tenderness, rueful wisdom, grandeur, and earthy humor intact.
Pushkin wrote his novel in verse, and even for an English-speaking audience, his gorgeous words reigned supreme in this production. Scenes in the novel unfolded slowly on stage as a soundscape that alternated between the music of actors' voices and a recorded score. English supertitles of lines from Pushkin's text, translated by Masha Zonina into vibrant rhyming couplets, were displayed above the proscenium.
While the novel takes its name from the male protagonist, Onegin, the more moving story in this production is that of Tatyana. A bookish and shy girl, she falls for cynical young Onegin and confesses her love in a letter, only to be rebuffed by him. At the same time, Onegin destroys his friend, the naïve poet Lensky, the fiancé of Tatyana's fun-loving sister, Olga. Onegin's careless flirtation with Olga leads to a duel, and he shoots Lensky.
Faithful to Pushkin's novel, the production followed an older Onegin as he remorsefully relived his memories while Tatyana grows into a graceful and resilient woman.
Presented by ArtsEmerson: The World On Stage and New York's Cherry Orchard Festival, the adaptation was conceived and directed by Rimas Tuminas, artistic director of the Vakhtangov State Academic Theatre of Russia, which staged and performed the production.
Transfixing sets by Adomas Yatsovskis, lighting by Maya Shavdatuashvili, costumes by Maria Danilova, and make-up by Olga Kalyavina conjured the old-world lifestyle of Russian gentry in country estates. The music, by Faustas Latenas, included a recorded score with passages from Tchaikovsky and Shostakovich as well as Russian and French folk songs.
Because most of this play's scenes are narrated, the production's 45 actors communicated more often with their faces and bodies than through speech. They frequently performed in a ballet-inflected pantomime choreographed by Angelica Kholina.
A black reflective backdrop, framed by tall white pillars, mirrored the activity on stage, evoking the mirroring power of memories.
In the opening scene, the main narrator, a Retired Hussar (Vladimir Simonov), says of the Mature Onegin (Aleksei Guskov), "He's gnawed by the serpent recollection and by repentence."
Accompanying these old souls is the Mature Lensky (Oleg Makarov), in a long, elegant coat, who lives in Onegin's memory although he died as a young man.
Strumming a mandolin, Ekaterina Kramzina, as a feral girl with a wild mane of hair, brings Onegin the pieces of Tatyana's torn letter, which he frames and mounts on a wall like a religious icon.
The black and white palette of the set extended to the costumes, including the long, pale robes worn by a line of young women who slowly crossed the stage. The scene became a ballet studio led by the Dance Master, a riveting Ludmila Maksakova, who issued her commands with hauteur in a black dress. No supertitles accompanied her lengthy, energetic speech, but her expressiveness conveyed the authority and tradition of her role. When her character slumps, yielding to age, she is tenderly lifted by her tutor, Pavel Tekheda Cardenas.