Candidates kick off summer campaigning in Dorchester
Yawu Miller | 6/4/2014, 10:43 a.m.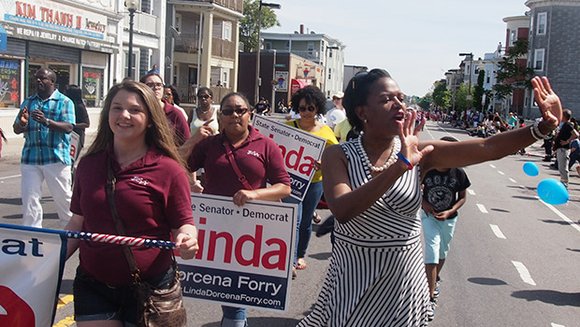 For Dorchester residents, the Dorchester Day Parade is a three-and-a-half-mile-long expression of civic pride that showcases the diversity of Boston's largest neighborhood.
For elected officials, the parade takes on a whole different dimension.
"It kicks off the summer parade season," said Suffolk County Sheriff Steve Tompkins, as he prepared to mobilize his contingent of two dozen or so supporters. "And Dorchester is such a tight-knit community. It's like a family reunion."
For Mayor Martin Walsh, a 16-year veteran of the State House, the parade was his first since his ascent to the city's corner office. Marching at the head of the parade, Walsh zigzagged along the parade route greeting supporters.
"He's the mayor of Boston and he's a big person in this community," said Giovanni Bala, a 4th grader at the Mattahunt Elementary School, after posing for a photograph with Walsh. "For him to take a picture with me was a big deal."
Accompanying Walsh were city councilors Frank Baker, Tito Jackson and Charles
Yancey, state Rep. Russell Holmes and Police Commissioner William Evans.
The head of the parade had a decidedly Hibernian vibe, with the Boston Police Pipes and Drums Gaelic Column providing the bagpipe soundtrack.
For elected officials who represent Dorchester, marching in the parade is an imperative. And for state-wide candidates, the parade is important as well. With a population north of 120,000, the neighborhood has more residents than any Massachusetts cities but Boston, Worcester and Springfield.
And, as Republican gubernatorial candidate Charlie Baker pointed out, "It's a politically active community."
Baker may not have much chance of winning Democratic-leaning Dorchester, but he can count on wringing votes out of the neighborhood's more conservative strongholds, which include Savin Hill, Cedar Grove and Neponset. And, as former U.S. Sen. Scott Brown demonstrated in his upset win over Attorney General Martha Coakley in the 2010 special election to fill the seat formerly held by Sen. Ted Kennedy, winning Boston isn't the objective for Republicans. Cutting into the Democratic base is.
Baker, who says he has been attending house parties and touring commercial districts in Dorchester, received a warm welcome when the Banner caught up with him in the Savin Hill area.
"There are a lot of good people in this community," he said, as he worked the crowd in front of the James A. Murphy and Sons Funeral home.
State Treasurer Steve Grossman, running for governor, worked the crowd without competition from the other Democratic candidates. Joseph Avellone, Dan Berwick, Coakley — a Dorchester native — and Juliette Kayyem took a pass on the parade.
"This is a big day for this community," Grossman said. "It matters a lot to people who shows up. This is all about relationship building."
Grossman, accompanied by a phalanx of orange-shirted supporters, was the lone Democratic gubernatorial candidate, marching ahead of Baker and independent candidates Jeff McCormick and Evan Falchuck. Other candidates for constitutional office included Maura Healey, who is running for attorney general and lieutenant gubernatorial candidates Mike Lake and Steve Kerrigan.