Stone mile markers harken back to Roxbury's colonial past
Yawu Miller | 7/30/2014, 1:31 p.m.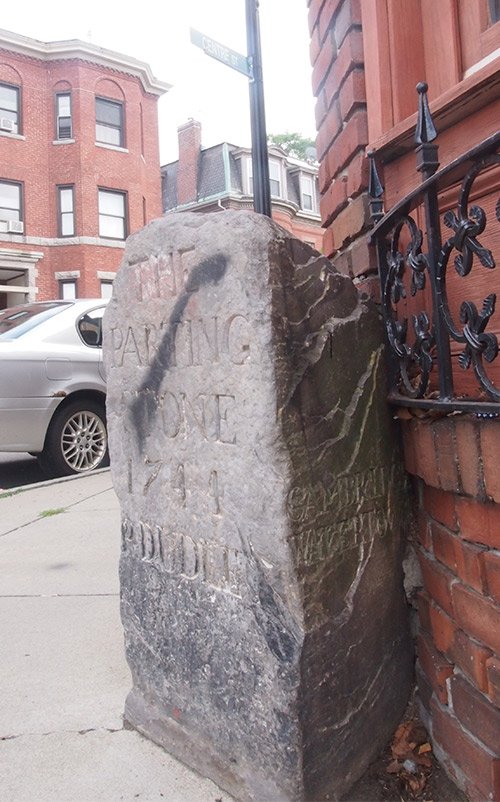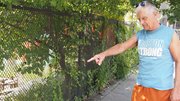 Sal Giarratani remembers vividly the streets where he grew up in Lower Roxbury in the 1950s, although most of them are gone, deleted during the state's push to create an inner belt highway where Melnea Cass Boulevard now runs.
Gone too is a relic of a more remote past: An 18th century obelisk-shaped granite mile marker Giarratani says once stood near the corner of Washington Street and Melnea Cass Boulevard.
"On one side there was a giant R and it said 1630," Giarratani says, inspecting the corner lot where he says the stone once stood. "On this side there was a giant B and it said 'miles to Boston.'"
The stone Giarratani describes may have been one of many erected by Paul Dudley, an attorney general and associate justice of the state's Superior Court in the 1700s. His initials, PD, appear on granite mile markers and parting stones throughout those parts of Boston that were originally included in the town of Roxbury -- West Roxbury and Jamaica Plain.
The distance was measured from Boston's Town House, a local government office that stood where the old State House now stands on Court Street.
Most of the state's mile markers were erected along what was once the Boston Post Road, a colonial-era highway linking Roxbury with Western Massachusetts, go as far out as Springfield. Many markers are still standing, although Dudley's initials appear on few outside of Boston.
Dudley's work in erecting the stones was an early public works project in the Massachusetts Bay Colony, paid for out of the jurist's own pocket for the benefit of travelers. In a state where road and street signs are still often viewed as an afterthought, Dudley's contributions of more than 200 years ago were quite progressive, notes Roxbury Historical Society President Thomas Plant.
"It's certainly one of the first efforts to do anything like this in America," he said.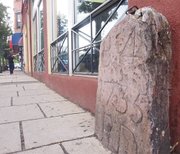 The stones also serve as a reminder of Roxbury's boundaries, which have shifted several times since the settlement was chartered in 1630, along with Dorchester, Boston, Newtowne (now Cambridge), Dedham and Charlestown.
Dudley seems to have begun his public works project in the early 1700s. Perhaps the most famous of the markers, known as The Parting Stone in John Eliot Square, stood at the intersection of roads leading to Rhode Island via Dedham, Western Massachusetts via Cambridge and Boston.
Erected in 1744, the stone originally featured an iron post on which lamps could be hung. It now stands at the intersection of Roxbury, Dudley and Centre streets. Nearby on Centre Street is a three-mile marker, also bearing Dudley's name.
In addition to marking mileage to Boston, The Parting Stone marked the departure point for stagecoaches heading for Boston from Roxbury. In those days, John Eliot Square served as a town square for Roxbury. The First Church of Roxbury and the Norfolk House Inn were important institutions in the town.
"If you were travelling to Boston in those days, you would stop overnight at the Norfolk House, freshen up, then make your entrance in Boston the next day," Plant said.