Gubernatorial candidates debate immigration, economy during debate at Roxbury Community College
Nate Homan | 7/23/2014, 12:22 p.m.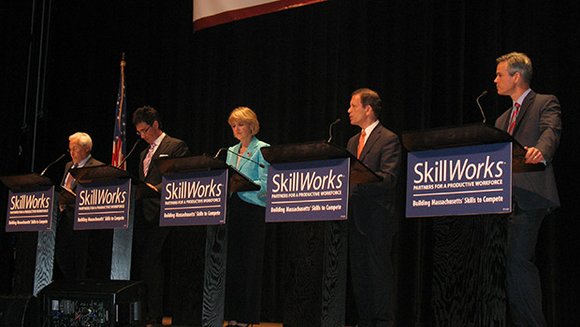 In the first post-convention gubernatorial debate held in Roxbury, State Treasurer Steve Grossman went on the offensive, attacking Massachusetts Attorney General Martha Coakley over immigration policies.
The forum, held at Roxbury Community College, was focused on jobs and workforce development. When asked about immigrant access to job training and English as a second language training, Grossman took a shot at Coakley for supporting Secure Communities Act, a Department of Homeland Security program that identifies undocumented immigrants, and opposing the state giving driver's licenses to undocumented immigrants.
"More than 50 percent of the people who have been deported have no criminal record. It tears families apart," Grossman said. "So to say you support immigrants when you've taken so many positions that are hostile towards them, to me, just doesn't make any sense."
In her response, Coakley cited support from former Boston Mayor Thomas Menino.
"I have championed for people in this country to be safe, have the opportunity to learn English," she said. "When Secure Communities first came in, it was accepted by Mayor Menino and [former Police] Chief Ed Davis. That city said 'we want this here' because it will make sure that the worst of the worst and the predators in those communities would be removed."
Coakley went on to say that she did not support the act if it had lost its mission, but did not say whether or not she felt it had.
"If Mayor Walsh and [Somerville] Mayor [John] Curtatone and their police chiefs don't think it's keeping people safe, then I don't support it either. I did oppose, five years ago, the driver's license issue because we do not have a federal solution here in Massachusetts. I have an open mind about how Massachusetts can, looking at other states, work with immigrant communities and see how other models work in order to give people driver's licenses."
Other candidates signaled their support for immigrant rights while staying out of the combat between Grossman and Coakley.
Democratic candidate Don Berwick echoed the need to assimilate immigrants into the education field and the workforce, saying that immigrants have started 61 percent of the new businesses in Massachusetts. He said that training programs are in dire need of reform, citing the 20,000-person waiting list for English classes as well as the societal attitude towards new arrivals.
"Everything we're talking about with immigrants pertains to human rights: Equity and justice," Berwick said. "The way we deal with the immigrant community is a test of our moral fiber. We have to fight like the dickens against the misclassification of workers. It is ugly."
Independent candidates Jeff McCormick and Evan Falchuk joined Berwick, Grossman and Coakley in discussing strategies for growing a skilled workforce should they be elected governor. The candidates agreed on the importance of boosting business and government efforts to help low-income and low-skill workers have better access to education and job training partnerships between community colleges, vocational-technical schools.
Coakley highlighted the partnership between Bunker Hill Community College and EMC and Worcester Polytechnic Institute and National Grid as examples of local schools and big businesses preparing an incoming workforce for real life job training.