Tompkins, Arroyo campaigning together
Yawu Miller | 7/21/2014, 7:11 p.m. | Updated on 7/21/2014, 7:11 p.m.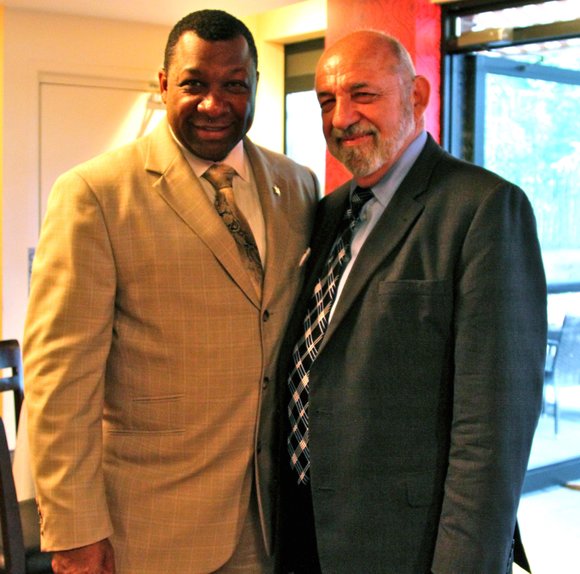 Suffolk County Sheriff Steve Tompkins and former City Councilor Felix D. Arroyo, a candidate for the office of Suffolk County Register of Probate and Family Court, have entered an alliance with joint appearances on the campaign trail.
Each has produced campaign literature that includes the other's name and image.
Tompkins says the alliance makes sense, given both campaigns cover the same geographical area.
"Felix senior and I represent all of Suffolk County and we see our combined efforts as an opportunity to present a unified message regarding public safety and concern for the issues that impact family life for the residents in the municipalities that we serve," he commented.
Arroyo said the alliance fits into a broader historical context of black/Latino political collaboration – noting that he, Jean McGuire and John O'Bryant campaigned together for the Boston School Committee in the 1980s.
"The issues that affect the black community affect the Latino community as well," he said. "We're natural allies.
Arroyo also teamed up with the campaigns of councilors Chuck Turner, Charles Yancey and Sam Yoon in the 2000s as part of a political grouping called Team Unity, a move that sometimes ruffled the feathers of white councilors, but helped the candidates amplify their votes in their respective communities.
The black/Latino collaboration also extends back to the Legislative Black Caucus' re-drawing of the 5th Suffolk District in the '80s, a move that helped Nelson Merced become the first Latino to serve in the state Legislature.
"Latinos need to learn the history of the black community because that's the history we are inserting ourselves into in this city," Arroyo said.