Home prices rise rapidly in Roxbury real estate market
Yawu Miller | 7/16/2014, 11:43 a.m.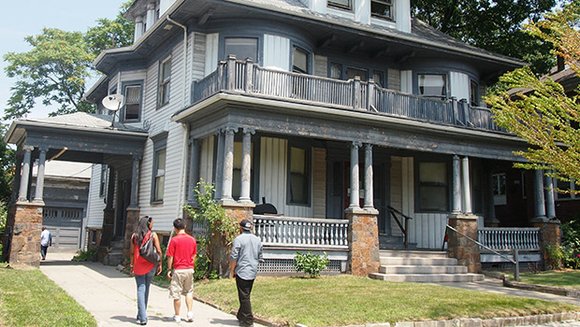 Home buyers priced out of surrounding neighborhoods are pushing Roxbury home prices higher as the neighborhood's real estate market continues its recovery from the great recession.
A single family on Elmore Street sold for $545,000, a two-family a block away on Munroe Street reportedly changed hands for more than $700,000 and a three-family on Fort Hill Avenue is listed for $1.3 million. If the Fort Hill seller gets anywhere near that, it could set a new high water mark for Roxbury.
"Buyers are pushing the envelope," said Roxbury-based real estate broker Kobe Evans. "The demand is constant, and a high percentage of the new sales are going to people from outside the neighborhood."
Evans says high sales prices in South Boston, Mission Hill, the South End and Jamaica Plain are making Roxbury more attractive to buyers who might have previously overlooked the neighborhood. While there have been some high-priced sales in Roxbury, there are still many deals.
One such deal, a 4,200 square-foot two family at 43 Hutchings Street, brought dozens of prospective buyers out on a Sunday afternoon. Listed for $399,000, and needing well more than $100,000 in renovations to its bathrooms and kitchens, the two-family also drew out a few neighbors, who admired its porte cochere and large, two-story carriage house.
As real estate broker Naoual Khermez herded groups of house hunters through the home's labyrinth of servants' stairways and rooms, neighbor Edith Alexander admired the detailing in the home.
"It's just so gorgeous," she enthused. "The woodwork, the stained glass windows. This is the old, historic Roxbury."
A life-long Roxbury resident, Alexander has more than a passing interest in who buys the home. Like many Roxbury residents, Alexander wants to see the new owners plant roots in the neighborhood.
"Hopefully, whoever purchases this property will do the right thing," she said. "We have a lot of housing being purchased and turned into group care homes."
For decades, Roxbury was seen by many as one of the least desirable of the city's neighborhoods. When Dan and Marlena Richardson bought their sprawling Queen Anne Victorian on Humboldt Avenue 40 years ago for $16,000, it was not widely recognized as a sound investment.
"People told us we were crazy," he said. "People said we were out of our damn minds."
Like many in the neighborhood, the Richardsons stuck it out while capital flight continued to bleed Roxbury and other inner city neighborhoods across the country. Now, as the neighborhood's housing values continue to rise, others are seeing the wisdom in the Richardsons' investment.
"It's safe to say Roxbury is the next big thing in real estate," said real estate broker Kensley Dimmott, surveying the houses on Hutchings Street. "Roxbury is now seen as safe. It happened in the South End, in Mission Hill and in Fort Hill. Now it's happening in the rest of Roxbury."
Up and down Hutchings Street, large oak trees and maples tower over the sprawling Victorian homes. Number 43, with its inelegantly hung aluminum siding, is flanked by the stately homes on either side. The well-kept housing stock makes the $399,000 fixer upper look like an even greater deal.