North Carolina congregation journeys to Roxbury to help renovate historic church
Shanice Maxwell | 7/10/2014, 6 a.m.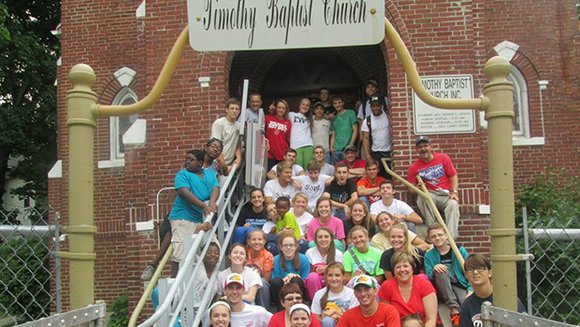 In an age where heightened levels of self-sufficiency, self-reliance and "selfies" are the norm, selfless work can appear to be a rarity. But for two groups of Southern Baptists, the exact opposite is true.
A team of 46 volunteers recently traveled from First Baptist Church in Southern Pines, North Carolina to Timothy Baptist Church in Roxbury to assist with renovations to the historic church building.
"We take an annual youth choir/youth group mission trip each summer and they wanted to go to Boston this year," said Benny Edwards, 51, minister of music and mission team chaperone. "The youth minister and I came up in March and interviewed several sites that we thought would be possibilities for our youth to be able to make a difference, and Timothy Baptist was [it], so we had 39 youth and seven adults here working."
For this group of Carolinians, in grades seven through 12, giving back is not only the right thing to do but a way a life; something that at an early age, they've found to be fulfilling and rewarding.
"We meet people who really have a need and after we've finished [a] project, the appreciation you see on their faces and the joy it brings them is pretty fulfilling," said David Ivey, 18, mission team volunteer.
Timothy Baptist Church has been a community gem since its inception in 1967. Located in the historic Fort Hill section of Roxbury, the 47-year-old church occupies a building erected in the early 1900s that formerly belonged to the Trinity Lettish Evangelical Lutheran Church.
Timothy Pastor Rev. Larry Green Sr. expressed gratitude for the help from the First Baptist mission.
"We've been so blessed to have the mission group from Southern Pines join in with us on the work we've been doing," he said. "Within their group, which is a music youth group that sings and plays bells, there are three contractors who have come to do a whole scope of things. They extended our pulpit, added new youth choir stands, stripped and shellacked our floors, removed and garnished our pews, built an altar that will be re-carpeted, converted the balcony, painted in our lower sanctuary, and scraped and sanded the baptism pool."
Green described the work as a sort of extreme makeover for Timothy Baptist Church that came at a time when the congregation has been undergoing spiritual changes.
"We've been in a spiritual transformation process for some time now," he commented. "We've gone through a number of inventories to identify our spiritual gifts and where we need to be in terms of being a transformational church for God. We found out that we're very high in prayer but we've decided to work on worship, mission mindedness and relational intentionality.
"This work falls right in line with relational intentionality because we're deliberately being relational and intentional about establishing relationships with people in our community, in our faith, in other states and so on."
The Timothy Baptist congregation are no strangers to mission work themselves — their missionaries give dinners to sick and handicapped people and support a child in Africa with money for basic necessities. They sent 15 members to help out at Camp Edwards following the aftermath of Hurricane Katrina, and most recently helped send a youth leader to Brazil to take part in mission and ministry work there.