Police seek more diverse recruit pool as minority numbers drop
Yawu Miller | 7/9/2014, 10:52 a.m.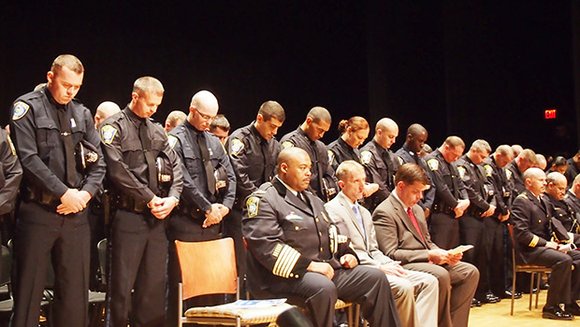 When the newest class of police officers was sworn in two weeks ago, the command staff on the stage — Superintendent Lisa Holmes, Superintendent-in Chief William Gross and Commissioner William Evans — showed the diversity of the police brass.
The recruits showed a different trend. Just 11 of the 63 new officers were people of color.
Holmes, who heads the police academy, told the Banner the class, which was recruited last year and began training in December, was made up almost entirely of military veterans who by state law are placed at the top of the list so long as they score at least 70 on the Civil Service exam.
The high concentration of mostly-white veterans undermined what Holmes said was an unprecedented effort to recruit a diverse pool of candidates last year, using billboards, posters, MBTA ads, newspaper and radio ads and outreach to community groups.
Applications were made available online and Holmes, working with then-Sgt. Detective Norma Ayala Leong, helped candidates fill out applications and offered waivers for the $100 application fee.
"Quite a few of the people I helped got waivers," Holmes said.
Because the test is administered by the Civil Service Commission, Holmes does not have figures on how many of those the department reached out to actually took the exam.
Hiring of police and fire fighters in Massachusetts is administered by the Civil Service Commission and based on test scores from the commission's exam. Cities and towns are allowed to place conditions on hiring. In Boston, police officers must live in the city for no less than one year before they are hired.
Holmes said the department undertook its efforts to help diversify the pool of recruits at a time when fewer people -- white or black -- are applying for work with the department.
"Law enforcement jobs are not as popular as the used to be," Holmes said.
For decades, the department's hiring practices were subject to a consent decree, stemming from a 1974 court ruling that found a pattern of discrimination against black and Latino job applicants. Under the consent decree, the department was required to consider one black or Latino applicant for every white applicant considered. For each applicant -- black, Latino or white -- not hired, the department was required to give a written explanation to attorneys for the NAACP.
The department was required to work under the consent decree until the percentage of black and Latino officers working for the department matched their percentages in the city's population. In 2004, a judge ruled that the percentages of blacks and Latinos in the department matched their percentages in the city's population and removed the consent decree.
While the numbers of black and Latino officers hired has been on the decline since 2004, Holmes says the department is committed to maintaining diversity in its ranks.
"People feel more comfortable with people who look like them, somebody they feel can relate to them," she said. "We need a pool that reflects the communities we serve."