Burke High School graduate discusses stint on Libyan basketball team during uprising
Shanice Maxwell | 7/2/2014, 11:29 a.m.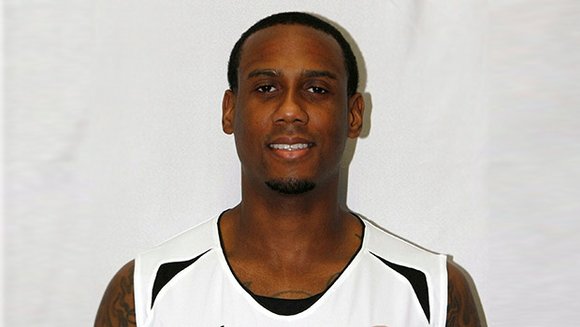 He's blessed, or lucky as some would say, to be alive to tell his tale. It's a vivid account of how playing basketball in Libya launched him into the middle of a civil war where instead of defending players on the court, he was left defending his life daily.
That's the premise from which Nigerian native and Dorchester's own Alex Owumi, international professional basketball player and author, wrote "Qaddafi's Point Guard."
What started as a book signing and time of camaraderie in Grove Hall's Public Library quickly snowballed into an outpouring of heartfelt sentiments and tears from a moved Owumi, who immigrated to the Dorchester as an adolescent, graduated from the Jeremiah E Burke High School and played basketball for Alcorn State College. As he shared details of the experiences in Libya's war zone that inspired his first book, the triumphant 30-year-old author shed tears before a crowd of more than 50 fans, friends and family members.
Owumi's desire to be drafted to the NBA after college didn't pan out quite as he had hoped. Taking a different route to achieve his all-star ambitions, Owumi signed with a French team and then joined teams in Macedonia and finally Libya. There he played for an athletic club privately funded by the family of then-president Muammar Qaddafi.
Owumi's time with the club was cut short by the civil war that wreaked havoc in the land and toppled the Qaddafi regime. Trapped in his Benghazi apartment for well over two weeks without food and water and with no means of communication or escape, the dangers of the bloodstained streets just beneath his home were infinite.
But, from a hopeless place, Owumi was eventually able to escape and was smuggled to a refugee camp in Egypt, where he would later play for a team in Alexandria.
"I grew up in a Third World country, raised by these two wonderful people. I came to America and kind of lost touch with what was going on in the other parts of the world, to be honest with you," said Owumi. "So when I did get back there I was living in Libya, which is a Third World county, but I was getting paid well to play the sport I love, I did that because I had to get back in touch with my roots."
He spoke of how survival became the name of the game in which he was now a player and how unlike basketball, there were no breaks, no halftimes, no substitutes. It was his will and family, he said, especially his nieces back home, that made him give it his all.
"Even with all that transpired, my life has changed for the better," he told the audience. "I was 26 when this happened, and I came out a new man. I was diagnosed with post-traumatic stress disorder, I got real bad anxiety and sleepless nights, but God helped me get back to where I am today."
Watching and listening intently, kids as young as 10, along with adults who watched Owumi grow up, clung to every word he spoke in the Grove Hall Library. For the young people in the crowd, many of whom were aspiring pro athletes, his message was to never give up and to study and work hard because education is key — and to never let others deter you from your dreams.