Luciana Souza revels in bossa nova during show at Harvard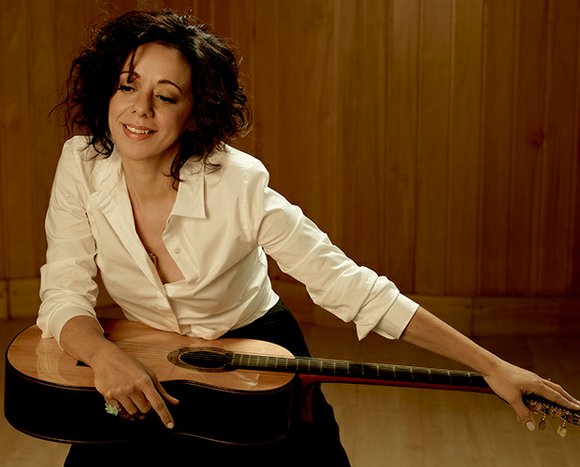 Bossa nova emerged as a musical form in South America during the 1960s as Brazil's answer to the vibrancy of American jazz.
Luciana Souza, who performed to an enthusiastic audience at Harvard University's Sanders Theater last Saturday night, is perhaps the music's reigning queen — a brilliant interpreter of rhythm, tune and vocal phrasing.
Like jazz, bossa nova is rooted in African polyrhythmic tonal stylings that emphasize persistent attention to complex beat patterns, contrapuntal exchanges, and constant and inventive phrasing. Souza's effortless poetic sense and voice provides a rich portal into the harmonic beauty of the music.
Her quartet opened on fire with "Filhos De Ghandi," a quickly paced performance that utilized heavy doses of percussion and American "scat" as a means of producing a driving, emotive sound which was reminiscent of music created by Oumou Sangare or Safif Keita of Mali, West Africa.
Bossa nova requires enormous vocal skills and technical knowledge of musical instruments that allow for lifting songs from mere pedestrian renderings into modal arrangements that depend heavily upon a full-bodied imagination and masterful ingenuity. The evening's performances did not disappoint.
On stage with Souza was Lionel Loueke on guitar, a native of Benin, West Africa, who possess a clear, complex and aggressive style; Gregoire Maret on harmonica, of Geneva Switzerland, who reminds American listeners of Stevie Wonder's soulful harmonica playing; Massiimo Biolcati, of Stockholm, performing with verve and confidence on bass; and Houston-born drummer and composer Kendrick Scott, whose talents are now gaining him the attention he deserves as a highly gifted contributor to the modern jazz idiom.
Widely known for employing literature as the architecture for her works, Souza has based two previous albums on poems written by Boston's Elizabeth Bishop and Pablo Neuruda.

She is also a follower of American trumpeter and lyricist Chet Baker.
"I grew up listening to Chet Baker … he was an important part of my development," Souza told the Harvard audience. "My heart slows [when listening to him]."
Baker's influence was palpably clear as Souza performed "The Thrill is Gone," where her smooth and sliding vocals exuded exacting moodiness, even melancholy. "The Book of Chet," is an album worth hearing and which Souza has dedicated to her musical inspiration.
"A Pebble," was performed with propulsive, mesmerizing effects, and employed an opening "call and response" instrumental between Loueke and Maret. "Aquelas Coisas," was at one time raucous and declarative and at another times diaphanous and ethereal — featuring playful, improvised exchanges by Kendrick and Souza.
"Ouidah" and "True North" put on display Souza's abilities at capturing the minds and sensibilities of her listeners — transporting them, alternatively, to tangible bright musical vistas or into deep valleys of memory where remorse or rapture might reside.
Born in Sao Paulo, Brazil, in the late 1960s, Grammy winner Souza is not new to the Celebrity Series of Boston, which produced her recent concert at Harvard and previous performances for her here. She is also a graduate of Berklee College of Music, where she earned a bachelor's degree in jazz composition, and has served on the college's faculty as well.