Interior designer Denise Rush follows passion into academic role at Boston Architectural College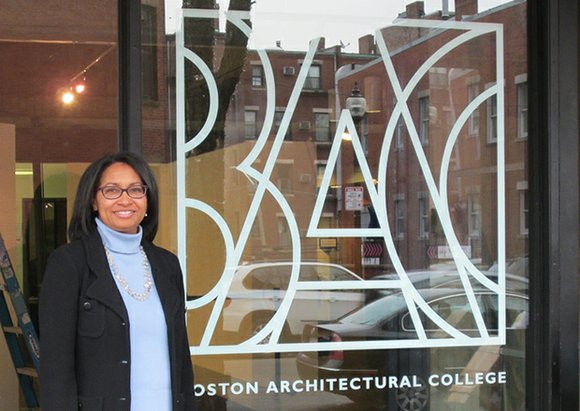 Denise Rush, the director of undergraduate interior design at Boston Architectural College's School of Interior Design, reflects back over 25 years in her field — an uncommon career choice for a young black girl growing up in Grand Rapids, Mich. — and says the advice she gives her students is to follow their passion.
"If you have a passion for something, you find a way to achieve that goal. Whether or not people look like you are not," said the 52-year-old Rush. "For me it was not a driving force that I needed to have someone look like me, inspire me."
"If this is what you want to do then just keep going," she added. "Find your passion is the key. Find your passion and just pursue it."
For Rush, that passion was always art and creating. As a child she said she loved playing with Legos, she loved the creative process and took a lot of art studies in high school. But she was also driven to do well academically and was strong in math and science. Combining the two led her to architecture. While in high school, she was able to get some experience at architecture firms to give her some exposure to the industry. This led her to a junior college and a pre-architecture program.
However, what she realized was that her design interests were not really satisfied with talk of structure and building design. She said she started to wonder what happens when you get to the inside of buildings and couldn't find the answer to this with traditional architecture.
"I heard about interior design and how it was related to architecture and what the focus was, so I actually had to transfer, I had to change my school, because there was no path where I was at to go to an interior design program," Rush said. "So I changed my school and was accepted to Michigan State. They had an accredited interior design program and I have never regretted it. I love shaping the interior space. I love being related to an architecture component. I have always, for the most part, worked in architecture firms doing interior design."
Rush graduated from Michigan State in 1984 with a bachelor's degree in interior design. She then went on to work at a number of architecture firms, including as a director and project manager in the offices of Perkins + Will in Chicago and the SmithGroup in Detroit, and as head of interior design at TowerPinkster in Grand Rapids.
Rush said many people may think of interior design as just decorating someone's home, but she emphasizes it is much more than that. Rush has spent much of her interior design career working in the commercial sector designing the interior spaces in office buildings, schools and hospitals, though she has done residential work as well.
According to Rush, decoration is just one aspect of what interior design does. The craft also focuses on shaping the volume of interior space, aesthetics and what she calls the "built environment" or how the space in buildings is used.