Boston police department diversifies top slots
1/22/2014, 10:54 a.m.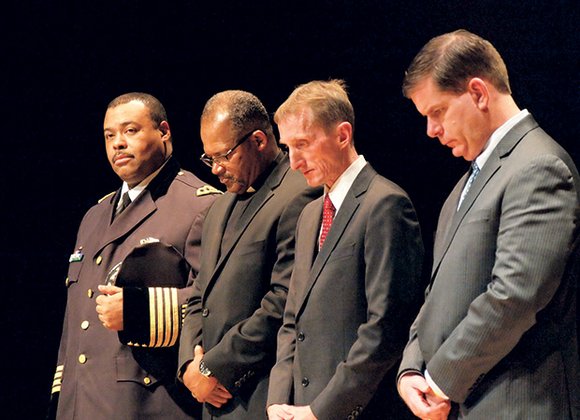 It took newly-appointed Police Superintendent-in-Chief William D. Gross just one sentence to bring the crowd of police officers, anti-crime activists and elected officials to their feet.
"I'm Superintendent-in-Chief William D. Gross," was all he could get out before he was drowned out in applause.
The significance of the highest-ranking African American in the history of the department presiding over the swearing-in ceremony for Police Commissioner William Evans was lost on few in the auditorium at the Salvation Army Kroc Center in Dorchester.
Gross is second in command of the most diverse command staff the department has ever fielded.
"Boston's come a long way," said Gross, a former night commander and head of the gang unit. "And now we have a command staff that reflects the diversity of the city."
Although Boston has a population that is more than 50 percent people of color, it's one of only a few cities in the country that has never had a black police commissioner.
With Evans' six new appointments — four black men, a Latina and an Asian man — 12 of the department's 24-member command staff are now women or people of color.
"You're seeing a command staff that reflects your community," Gross said. "That's how we're going to move forward."
In his remarks to the audience, Evans emphasized his commitment to community policing, pledging to put more officers on foot patrols and on bicycles. He emphasized his commitment to violence reduction, citing the department's work in removing 667 guns from the streets in the last year.
Evans also stressed the department's commitment to homeland security in the wake of last year's bombing at the Boston Marathon.
"After April 15, we had to take security to another level," he said.
And he spent much of his address speaking about his commitment to creating a police department reflective of the city's diversity.
"I put Superintendent Lisa Holmes in charge of the [Police] academy," Evans said. "Lisa has really been effective at recruiting diverse candidates for the academy. I think the recruits will come out better prepared so they're not soldiers ready for battle, but problem solvers."
Gross noted that Evan's assignment of people of color as captains in area substations is a departure from the immediate past, when there were none. Kenneth Fong, who is Asian American, now heads Area A1 in downtown Boston. Alfredo Andreas, who is Latino, heads D13.
While the swearing-in ceremony was for Evans, many in attendance heaped praise on Gross, who served as the emcee of the event.
Walsh said he was happy with the commissioner's picks for command positions, recalling a meeting with Evans shortly after he was named commissioner.
"We sat down and talked about what the command staff should look like," Walsh said, adding he was particularly happy with Gross, who served at Dorchester's Area C11 while Walsh was a Dorchester state Rep.
"I loved the idea," he said. "I've known Gross for a long time."
Evans' appointments come after years of complaints from the Massachusetts Association of Minority Law Enforcement Officers and other community groups about the lack of diversity in the department's command staff.