Local groups pressure loan giant on evictions, foreclosure policies
Yawu Miller | 1/15/2014, 10:55 a.m.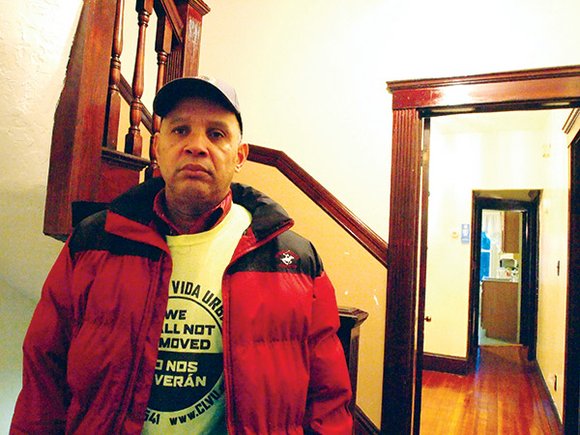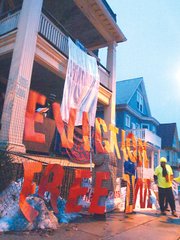 A coalition of Boston housing activists is calling on the federally-funded housing giant Fannie Mae to end foreclosure policies they say are destabilizing Boston neighborhoods and driving up the cost of housing.
And with the appointment this month of Melvin Watt as head of the Federal Housing Finance Agency, coalition members are hoping they now actually have a chance of effecting change.
As Watt completed his first week on the job, taking over from Bush appointee Edward DeMarco, members of City Life Vida Urbana, the Right to the City Coalition, the Greater Four Corners Action Coalition and other groups demonstrated at a foreclosed Dorchester property against the firm's refusal to negotiate a sale to a nonprofit group while the former owner, Domingo Franco, is still living on the premises.
Maureen Flynn, coordinator of the Coalition for Occupied Homes in Foreclosure, says her group has tried unsuccessfully to negotiate with Fannie Mae over the Speedwell Street property and others in the Dorchester area.
"Fannie Mae is one of the biggest owners of foreclosed properties and we're having the greatest difficulty with them," she said.
COHIF is a coalition of nonprofits and city agencies working on a pilot project to keep owners and tenants in their homes. Their aims run counter to Fannie Mae policy.
"Fannie Mae's goal is to empty out buildings and sell them," Flynn says. "It's the opposite of our goal."
Asked for comment, Fannie Mae spokeswoman Callie Dosberg sent the Banner a statement via email.
"Tenants under a bona fide lease or tenancy who rent a property that goes into foreclosure have the opportunity to continue renting the property from Fannie Mae," the statement reads. "Former homeowners who are foreclosed upon must vacate the property unless they are able to satisfy the full debt of the foreclosed mortgage, including interest and the costs of pursuing the foreclosure."
Franco's tenant, Josephina Luna, says she never received notice that Fannie Mae was taking possession of her home, but she did receive a notice requiring her to vacate the building.
City Life staff, who are working with the Franco, say it's in the best interest of owners, tenants and neighbors keep the owners in their homes.
"If the banks force people out of their homes what you'll have is an abandoned building, sometimes four or five on a block, which brings the values of everyone's home down," says City Life/Vida Urbana organizer Antonio Ennis.
When homes go into foreclosure, banks commonly send owners and tenants letters telling them to vacate in 14 days.
"We encourage people to stay in their homes because the bank doesn't have the authority to evict tenants," Ennis says. "The banks engaged in predatory practices. We encourage them to stay in place so they can have more leverage."
Franco obtained a mortgage for the Speedwell Street triple decker from JPMorgan Chase in August 2002, purchasing the house for $430,000. In 2009, he lost his job as a union carpenter and squeaked by with payments before going into default.