Dudley Square retail rents rising as area undergoes revitalization
1/15/2014, 10:47 a.m.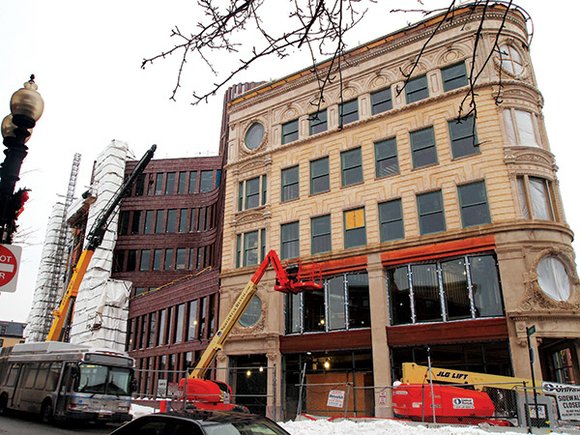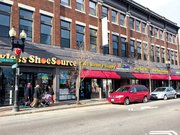 The rising tide of new commercial development around Dudley Square is becoming ever more tangible, as the city began receiving proposals for leasing retail space in the new Dudley Municipal Center and financing was announced this month for a new and greatly expanded Tropical Foods store.
The Dudley Municipal Center, set to open in early 2015 on the Ferdinand's site, will become the headquarters for the Boston Public Schools, bringing some 525 BPS employees and new restaurant and retail storefronts to the heart of Dudley Square. The new Tropical Foods building is the first phase of a project adding commercial and residential space to the long-vacant corner lot on Melnea Cass Boulevard at Washington Street. Across Melnea Cass Boulevard, a new hotel, residential and retail project is in the works for the vacant lot next to Ramsay Park.
These three projects alone promise some 50,000 square feet of new retail space. In addition, plans for Bartlett Place, approved in fall 2013, include 17,000 square feet of new office and retail space on the old Bartlett Yard. And the mammoth Tremont Crossing proposal, still under review by the Boston Redevelopment Authority, would add 550,000 square feet of retail along with residential, office and cultural facility space at Tremont and Whittier Streets in Lower Roxbury.
The surge of activity in Roxbury is sparking a mix of hopes and fears as area businesses and nonprofits contemplate what's still unknown: the types of incoming businesses, the customer potential of an influx of BPS employees, and what will happen to area retail rents.
"You have to welcome the improvements," said Sharif Abdal-Khallaq, whose family business, A Nubian Notion, has been in Dudley Square for 50 years. "The downside is that it might not be the community it was. Will the people here be participants, or will they be on the sidelines?"
Abdal-Khallaq has no doubt rents will go up. A Nubian Notion has already downsized to survive rent increases, he said, squeezing its inventory of Afro-Centric figurines, jewelry, greeting cards and general convenience store items into a smaller space.
"Any time you make an improvement in a neighborhood you can expect the rents to go up," he said. "The rents have climbed, and they will continue to climb."
Kalila Barnett, executive director of the nonprofit Alternatives for Community & Environment said her organization is seeking new office space in Dudley Square when their lease ends this spring after five years at 2181 Washington St.
"I would say rents are definitely rising," Barnett said. "We want to lock in a long term lease. I'm concerned about whether ACE will be able to stay in Dudley over the next 10 or 15 years."
The average retail lease rate in Dudley Square is currently $24 per square foot per year, according to Joyce Stanley, executive director of Dudley Square Main Streets. This translates to a monthly rent of $4,000 for a 2,000-square-foot shop. While Stanley said this rate is far lower than in some other Boston neighborhoods, it is up about 50 percent from 1995 rates of $16 to $18.