Diversity a top priority for New England carpenters union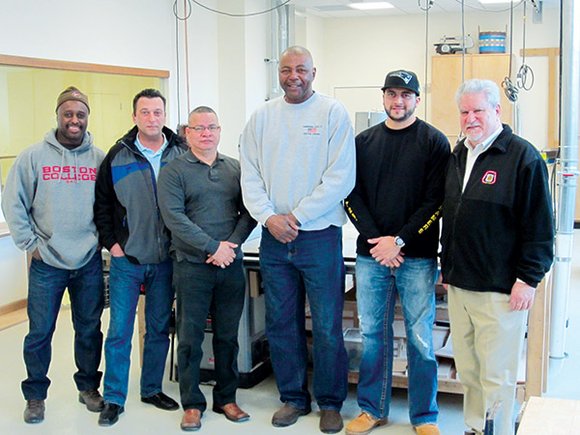 New England Regional Council of Carpenters Executive Secretary Mark Erlich says the Massachusetts building trades' future will reflect a workforce that is diverse and inclusive — if for no other reason — based on the need to add younger workers and the pool of talent available.
While most building trades unions remain overwhelmingly white, the carpenters' union has stood out for its efforts to diversify its ranks in recent years. And as much as Erlich would prefer not to dwell on the past, progress is often contingent on an acknowledgement of past wrongs.
"We all know that historically the building trades, including the carpenters, were exclusionary, parochial, country club, racist organizations," he says. "There is no point in saying anything other than that and being honest. The reality is that, with the carpenters union in particular, in the last generation that has changed dramatically and is continuing to change.
"And the frustration is that the perception has not yet caught up with the reality. We still have a long ways to go, but this is a union that thrives on a diverse membership, welcomes a diverse membership and is committed to reflecting the demographics of the city we work in."
The NERCC represents approximately 25 local unions and 22,000 carpenters, shop and millmen, pile drivers and floor coverers working throughout New England.
According to Erlich, the organization's efforts to diversify are reflected in the numbers from its apprenticeship program, which is the first step for workers to enter into the trades. Focusing on Boston neighborhoods that have large minority populations, the apprenticeship programs for the seven local unions that cover these areas have been about 32 percent minority over the past four years. In addition, the membership of two of the NERCC's statewide local unions, the floor coverers and the wood framers, is now majority minority.
The Banner sat down with some of the leaders of the NERCC and with a number of local organizers to talk about the reality of hiring and growing their various trades and the challenges in finding new workers from the communities that make up Boston and surrounding cities.
Like all the local organizers in the room, Craig Ransom, a NERCC representative and organizer in Boston and a member of Local 40, as well as a commercial construction worker, said he spends plenty of time visiting non-union job sites and talking to workers about the benefits of joining unions. He tells them about the apprenticeship program, which teaches them a trade with weekly training sessions four times a year during their first four years in the industry. And he also makes the rounds at local high schools.
Ransom said he is frequently at schools such as Madison Park Vocation High School in Roxbury recruiting for the trades.
"We talk about our apprenticeship program, saying if you are not bound for college and if you want a sustainable career, give construction a chance," Ransom said. "We are saying the trades are really good because it is a trade that, once you learn it, it is yours. It is a value that you can take it with you wherever you go."