Marty Walsh inaugurated; Boston City Council picks Bill Linehan as president
Yawu Miller | 1/8/2014, 11:12 a.m.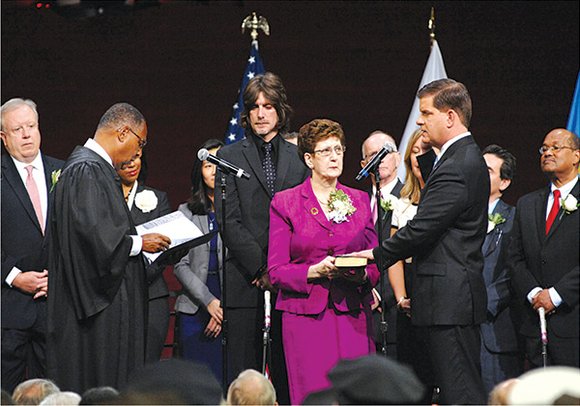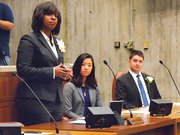 The new Boston and old Boston were in stark contrast Monday with the inauguration of Mayor Marty Walsh and a contentious vote for the presidency of the City Council.
At Boston College, Walsh was sworn in on a multi-racial stage with Massachusetts Supreme Judicial Court Chief Justice Roderick Ireland administering the oath of office and former state Rep. Mel King leading a group of students in song.
In City Hall, events took a more divisive turn as at-large Councilor Ayanna Pressley failed to derail South Boston Councilor Bill Linehan's ascent to the council presidency.
The 8-5 vote came on the heels of Mayor Marty Walsh's swearing-in ceremony. Pressley and Linehan supporters packed the council's Iannella Chamber for the vote. District 7 Councilor Tito Jackson moved to allow the candidates to make a speech before the vote.
In her remarks, Pressley stressed her experience as a city-wide councilor in securing several legislative victories she has eked out, including her home-rule petition to lift the cap on liquor licenses in Boston — a vote where Linehan was the sole dissenter.
"I'm accountable to residents in all 23 neighborhoods in the city," Pressley said. "And my work speaks to my commitment."
Linehan, who lined up the seven votes necessary to win the presidency well in advance of the meeting, declined to speak.
With no further deliberation, the votes were recorded. For Linehan: Frank Baker, Mark Ciomo, Sal LaMattina, Linehan, Timothy McCarthy, Steven Murphy and Michelle Wu. For Pressley: Tito Jackson, Matt O'Malley, Pressley, Charles Yancey and Josh Zakim.
While City Hall insiders had little doubt Linehan would win, a current of tension ran through the body's deliberations Monday. As the councilors registered their votes, at-large Councilor Michael Flaherty indicated his support for Linehan referring to him as a "son of South Boston, Bill Linehan," using an antiquated honorific often deployed on the council floor.
Voting next, Jackson indicated his support for Pressley referring to her as "representing the whole city of Boston, Ayanna Pressley."
When newly-elected Councilor Michelle Wu indicated her support for Linehan, Pressley supporters hissed.
In his victory speech, Linehan pledged to represent the whole city in his role as council president.
"Collectively, we have received votes from every neighborhood of the city," he said. "We have to work to make sure their voices are heard."
Outside the Iannella Chamber, some of those voices expressed disappointment in the council's first vote of 2014.
"How is it that a woman at the top of the ticket lost to a man who nearly got the city sued because of his leadership on the Redistricting Committee," said Mariama White Hammond, executive director of Project HipHop.
White Hammond and other voting rights activists say Linehan attempted to re-draw the city council's voting boundaries in a manner that violated the 1965 Voting Rights Act, engaged in deliberations without holding public meetings and refused to let community groups submit maps for consideration by the council.
Linehan's stewardship of the redistricting process earned him the enmity of black, Latino and Asian activists who were advocating council district boundaries be redrawn in ways that give candidates of color better chances of being elected. The council later voted on a compromise map that did not lessen the electoral prospects of candidates of color, but did little to expand them.