American Repertory Theater's 'The Heart of Robin Hood' adds romance to classic tale
Susan Saccoccia | 1/2/2014, 8:30 a.m. | Updated on 1/2/2014, 8:31 a.m.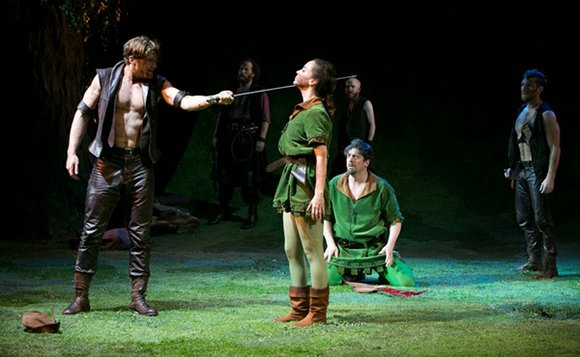 A state of wonder sets in even before the actors appear in the deliriously enjoyable American Repertory Theater production of "The Heart of Robin Hood" at the Loeb Drama Center in Harvard Square through January 19th.
Branches of a massive oak tree extend above the stage and over half the rows in the theater. A quintet of musicians, the alt-rural-folk band Poor Old Shine, roams the aisles, serenading the audience as they take their seats. With their scruffy beards and vintage outfits—bowler hats, vests and baggy pants—they resemble forest gnomes.
Conjuring Sherwood Forest, the tree and stage set—a backdrop of a grassy hillside that extends across the stage to create a wooded glade—harmonize with the rustic earthiness of the band who, in every scene, sing and play such quaint instruments as the mandolin, banjo, saw, glockenspiel and pump organ.
As they come on stage, the actors turn the forest into a haven of freedom, a scene of violence and, as in Shakespeare's comedies, a place of transformation and disguise. In between hand-to-hand combat, testy confrontations and scenes of gore equal to any fairy tale by the Grimm Brothers or Hans Christian Andersen (what is it about these northern Europeans?), they hurl themselves down the grassy slide, pop in and out of bubbling holes, break-dance, and ascend on ropes to the great branches overhead.
Written by David Farr, a Royal Shakespeare Company associate director, the play is directed by Icelandic director Gisli Örn Gardarsson, who infuses his acrobatic flair as a former gymnast and his Icelandic appetite for keeping nature close at hand.
"The Heart of Robin Hood" premiered in November 2011 at the Royal Shakespeare Theatre, Stratford-upon-Avon, directed by Gardarsson, who reunites his staging team for the ART production, with set design by Borkur Jonsson, costumes by Emma Ryott and lighting by Bjorn Helgason.
In February, Gardarrson and Farr were in Boston to jointly adapt and direct the Arts Emerson production of Kafka's "Metamorphosis." Gardarrson performed the lead role of Gregor Samsa, who wakes up one day to find himself transformed into an insect.
The transformations in this play take their cues not from Kafka's bleak satire but instead from Shakespeare's comedy, "As You Like It." Like Rosalind, the heroine who takes to the forest and disguises herself as a man to avoid her father's would-be usurper, Farr's Marion heads to Sherwood Forest to escape evil Prince John, who conspires to marry her and usurp the rule of her father who is away fighting the Crusades.
She wants to join Robin Hood and his band of men who, she believes, rob from the rich and give to the poor.
Rejecting her offer to join his band, Robin Hood tells her that they avoid any contact with women, who "cause storms in the heart of a man."
She and her faithful manservant Pierre also learn that Robin Hood and his men steal from the rich but keep their booty for themselves. "There's nothing merry about us," they tell Marion. In fact, they are heartless knaves.