Luminous cast fuels "Witness Uganda" American Repertory Theater run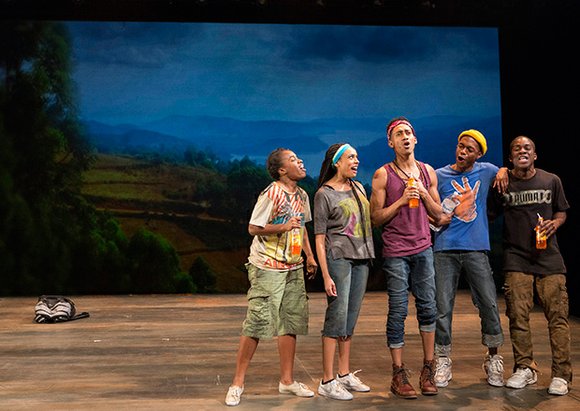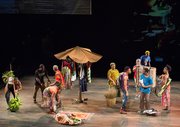 From the moment that Griffin Matthews steps on stage at the start of "Witness Uganda," in its world premier at the American Repertory Theater's Loeb Drama Center in Cambridge through March 16, it becomes apparent that the show is about him.
A doe-eyed gazelle of a man, Matthews is charming in the lead role of Griffin in this semi-autobiographical musical, which is based on his experience as a volunteer in Africa.
But given the subject of "Witness Uganda," which Griffin declares is about "the complexity of helping," it would seem appropriate that the people he strives to help be given equal weight. Yet in most scenes, Griffin and his dilemmas are center of attention.
Rejected by his church choir after letting them know he is gay, and frustrated by the limited options he finds as an African-American actor — roles of druggies or jungle animals (a humorous reference to "Lion King"), Griffin decides on impulse to leave New York and travel to Uganda to help build a village school.
He soon learns that his unseen host, Pastor Jim, lures volunteers into rehabbing hovels and then sells the properties for personal profit. The rehab project is a hoax but the village's need for a school is real. Griffin begins teaching a group of teenagers — despite warnings from Joy, the dour woman who is Pastor Jim's assistant.
As the plot turns melodramatic, the hilltop where Griffin and his students meet becomes a place of refuge. Here, they plan their escape. And here, in another scene, the suffering Griffin finds consolation in the arms of a Madonna-like villager.
What keeps this production watchable is the cast of young actors who give their thinly drawn characters personalities and convey their change and growth. As Griffin plants the vision of a future in their heads, their wariness molts into eager hope.
Kristolyn Lloyd is luminous as the aspiring Grace. Nicolette Robinson is a mischievous Eden, brimming with bravado and vulnerability. Their good-natured male friends are Ibrahim, played by Jamar Williams and Ronny, played by Tyrone Davis Jr.

As Joy, Adeola Rola endows her stern character with humanity. Michael Luwoye is convincing as Jacob, Joy's anguished brother. Emma Hunton lends warmth and self-effacing humor to the role of Ryan, Griffin's best friend and an aspiring pop singer.
Matthews and Matt Gould co-wrote the script and music of "Witness Uganda." Their two-man concert version of the show won the 2012 Richard Rodgers Award for Musical Theater.
ART Artistic Director Diane Paulus directs its first fully staged production. Sets by Tom Pye, lighting by Maruti Evans, and video projections by Peter Nigrini imaginatively and efficiently shift between New York City and a Ugandan village. A marvelous tilting platform creates the rise of the hill where the young people meet for their lessons with Griffin, far from the reach of Pastor Jim or his spying cohorts.
Gould leads a sextet of musicians who perform a score that blends African rhythms and textures with a western pop beat. Unlike the organic flow of Afro-pop, the music, along with the choreography by Darrell Grand Moultrie, is often high octane, conjuring a fever dream of Africa that heightens the show's melodrama.
The six-member singing and dancing ensemble is terrific, but usually performs on the periphery of the stage, framing rather then driving scenes. When on stage, they often act the part of anonymous villagers. A standout in the ensemble is Melody Betts who, with her commanding presence and powerful pipes, injects grandeur into the production's gospel-style numbers.
Clever costumes by ESosa express a variety of worlds. The ensemble's attire, like the music and dancing, bursts with the colors and verve of Africa. Griffin and Emma wear the casual garb of itinerant young westerner, and the young students are outfitted in T-shirts and denim.
Among the show's bright touches are the teasing exchanges between Griffin and the students as they get to know each other. Intrigued by this emissary from faraway New York, they alternate between taunting and heeding him, and he responds in kind. Showing off her skirt, Eden asks Griffin how he likes it. He replies, "It needs a belt."

In the stirring finale of the show, Griffin cedes the spotlight to his students. In their school uniforms, they speak — and sing — as young people with a future.