Governor says state can cut recidivism rate in half
Yawu Miller | 2/26/2014, 10:35 a.m.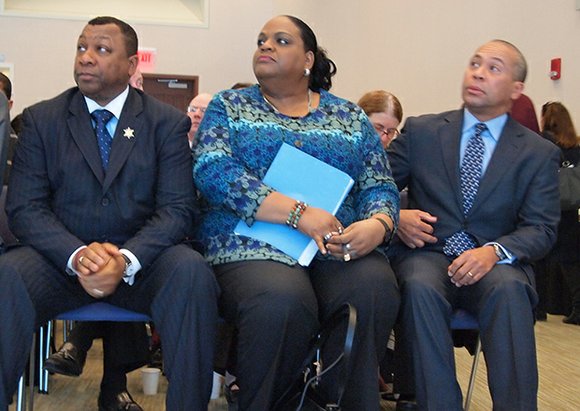 Gov. Deval Patrick says recidivism, the rate at which people convicted of crimes are re-arrested, can be cut by 50 percent in Massachusetts over the next five years if state policy makers continue an ongoing trend of criminal justice policy reform.
Speaking at a forum held at UMass Boston and sponsored by MassINC, Patrick spoke about the success his administration and the legislature have had in reforming the state's criminal justice system and outlined reforms he plans to advance in the next year.
Patrick called on state policy makers to reject the notion that punitive policies — including mandatory minimum sentences, solitary confinement and incarceration of nonviolent drug offenders — will help reduce crime.
"We think there is a more pragmatic, more effective and most efficient way to think about criminal justice, one that learns from the experience of the past, deals with the realities of today, and actually makes the public safer," Patrick said.
In many ways, Patrick's approach to crime is a repudiation of those ushered in during 16 years of Republican governors beginning with William Weld, who told reporters he planned to "reintroduce Massachusetts prisoners to the joys of busting rocks."
Although Patrick and several Massachusetts sheriffs have pursued policies biased toward rehabilitation, the "tough on crime" mentality persists in Massachusetts. Over the objections of Black and Latino Caucus members, the Legislature passed a punitive three-strikes bill in 2012 aimed at repeat offenders.
Last week, Patrick highlighted a provision in that bill that reduced mandatory minimum sentences for nonviolent drug offenders and increased the ability of inmates to earn time off their sentences for participating in prison programs.
"This has contributed, over the past two years, to a 7 percent decrease in DOC's inmate population, and a 13 percent decrease in the county jail population," Patrick said. "That decrease will save almost $8 million in the coming fiscal year and eliminate the future need for 10,000 new prison bed-spaces, at a cost of $2 billion to build and billions of dollars to operate."
The governor also touted the state's 2010 CORI reform legislation, which he says has made it easier for ex-convicts to obtain jobs, housing and volunteer opportunities that in the past were closed to offenders.
And Patrick said his administration's Safe and Successful Youth Initiative, an anti-violence program aimed at young men, ages 14 to 24, has led to reductions in gun violence in targeted cities. The program, which requires law enforcement agencies and social service and support programs to work cooperatively, has led to a 25 percent drop in homicides in that population.
In another program that Patrick says will reduce recidivism, the sheriffs in Berkshire, Essex, Hampden, Hampshire and Suffolk counties are accepting Department of Corrections inmates, who would normally serve their full sentences in a state prison, to serve the remaining months of their sentences in the county jails closest to their homes.
"That's significant because the inmates can benefit from community-based programs, re-engage with supportive family members, and establish trusting relationships with service providers in the neighborhoods they will soon re-join," Patrick said. "This partnership will better prepare ex-offenders for productive life in the community after completing their sentences."