Artists infuse work with comments on social injustice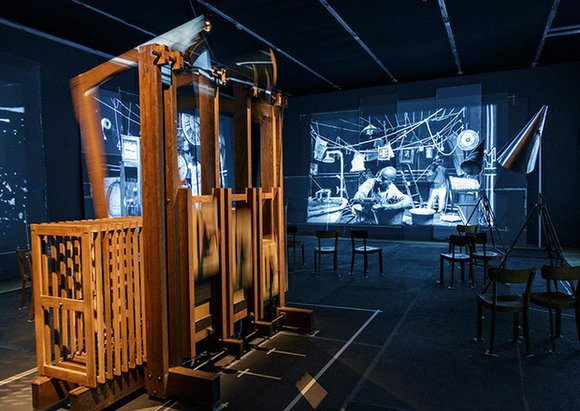 Two contemporary artists whose works are on view at the Institute of Contemporary Art Boston through May 4 have more in common than might readily meet the eye.
Wearing a rumpled white shirt and black pants, William Kentridge of Johannesburg, South Africa, casts himself as a white everyman in his prints and in animations and videos that draw on his early career in theater.
Nick Cave is an African-American artist based in Chicago who also builds performance into his works, most notably in his "Soundsuits," head-to-toe concealments. Composed of cast-off curiosities from rugs to plastic birds and infused with urbane, hip-hop style references, they often rustle as the wearer moves around. But even as silent displays, these deliriously ornate and colorful structures are loud in presence.
Yet both men create art that resists the dominant culture. Apartheid and other forms of social injustice often inform Kentridge's works. Cave made his first Soundsuit as an antidote to the beating of Rodney King by Los Angeles police officers in 1991. An Alvin Ailey trained dancer, Cave regards the constructions as a protective second skin, cladding the wearer in the armor of imagination.
Recalling King's beating in a 2009 interview with The New York Times, Cave said, "I asked myself, as a black man, how it felt to be so discarded and devalued."
Curated by ICA senior curator Jenelle Porter, two galleries of art show Cave creating new value out of discarded objects.
In one gallery, 12 Soundsuits are on display on an elevated runway, posed as if in a fashion show. These silent, statuesque totems evoke the spectacular otherworldly garb of shamans and other healers and protectors.
Cave fashions his works with teams of assistants who help him scout, horde and assemble his finds into sculptures. Glittering with dime-store opulence, they exude primal joy. One figure coated with mother-of-pearl buttons evokes the '60s "Space Age" couture line of designer André Courrèges. Another echoes the ornate embroidery of an ecclesiastical robe. Others work in braided rugs, a shopping cart and a stuffed rabbit.
A second gallery shows four of Cave's latest works, which mimic the forms of art found in Italian Renaissance churches and gardens. Bursting with ceramic birds, metal flowers, crystals and beads are a wall-mounted base relief in four panels and three quirky grottos, each enshrining a plaster figure of a dog. While captivating as intricate webs of color, texture and light, they come off as mere eye candy.
Organized by chief curator Helen Molesworth, the ICA's presentation of Kentridge's works shows his five-channel video and sound installation "The Refusal of Time" and 13 of his works on paper.
Introduced at the 2012 Documenta, an art festival held every five years in Kassel, Germany, "The Refusal of Time" occupies a darkened gallery.
A heaving contraption of wood and brass sits in the center of the room. Kentridge calls it a "breathing machine" or "the elephant" because it reminds him of the machine Charles Dickens describes in his novel 1854 "Hard Times" as moving "monotonously up and down, like the head of an elephant in a state of melancholy madness."