Partners HealthCare and Boston Public Schools collaborate to get kids moving
Healthy Living Advertorial
2/12/2014, 12:53 p.m.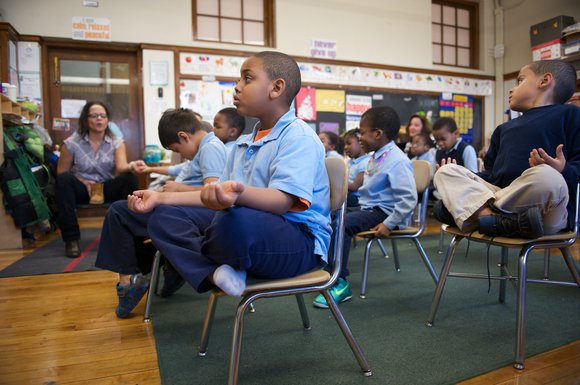 Physical activity is an essential part of anyone's day for good health, and it is especially important for children who are filled with boundless energy.
All that energy in the classroom, however, can be distracting. So how can teachers help children to channel that energy so they can focus on learning?
According to the Center for Disease Control, physical activity can improve academic performance and providing recess to students on regular basis benefits children's social development as well.
Nationally, the obesity epidemic is impacting both adults and kids; in Boston 39.67 percent of the city's youth are overweight or obese. The CDC recommends children get 60 minutes of physical activity a day.
To help support this research and benefit school children, Partners HealthCare is working together with the Boston Public Schools Health and Wellness Department to promote the Wellness Champions program to ensure that students can incorporate movement into their school days.
Through the Wellness Champions program, schools have their own champion who is an active member of the school community such as a teacher, paraprofessional, nurse, parent, school partner or lunch monitor, who is committed to creating a healthier school environment. The Wellness Champion actively works to change the culture of the school by introducing resources for teachers to use during the school day to help to implement activity and movement.

"We are fortunate to have so many members of the BPS community committed to the health and well-being of our students. The interest level in the Wellness Champions program has been extremely high and essential in our efforts to get this program off of the ground," says Jill Carter, executive director of Boston Public Schools Health and Wellness Program.
The activities the Wellness Champions plan vary from school to school, but all share in the same aim of getting kids up and out of their chairs. At the Russell School in Dorchester, students have movement breaks twice a day: teachers connect the movement to the curriculum and encourage learning through movement. The school also hosted a 5K road race at the Franklin Park Zoo with students, families, community leaders and teachers participating as part of an all-school health promotion effort.

The Josiah Quincy School in the South End has taken a different approach by incorporating the Jammin' Minute into their day. Just after the pledge of allegiance and prior to the first period, students are led in a minute-long series of exercises that include everything from jumping jacks to leg squats. Student leaders demonstrate the movements for all to follow, teacher's included!
At the Conley Elementary School in Roslindale, Wellness Champion and teacher Alicia Silva has introduced her students to a regular yoga practice. "Yoga is an integral part of the day in my classroom. Practicing yoga is both a physical and mental practice and gives students a way to regroup and refocus on the rest of their academic tasks. I have noticed a huge difference in my students' behavior since we started the Wellness Champions program, which makes my own teaching experience even better," she said.
The Wellness Champions investment by Partners will have a powerful impact on the lives of up to 40,000 Boston Public School children. To date, there are 62 schools with Wellness Champions. One hundred twelve new Wellness Champions have been trained since the collaboration started. Partners and BPS are also partnering with the Boston Public Health Commission to create inter-school competitions around increasing movement over the course of the day.
"The Wellness Champion Program is one we are very excited about here at Partners. We are committed to helping Boston's young people to be healthy and to having full academic experiences that enable them to thrive throughout their lifetimes," said Matt Fishman, vice president of community health at Partners HealthCare. "Providing opportunities for exercise bursts in the classroom or at recess are effective tools that can bring tremendous results."