Company One raises the curtain for student jobs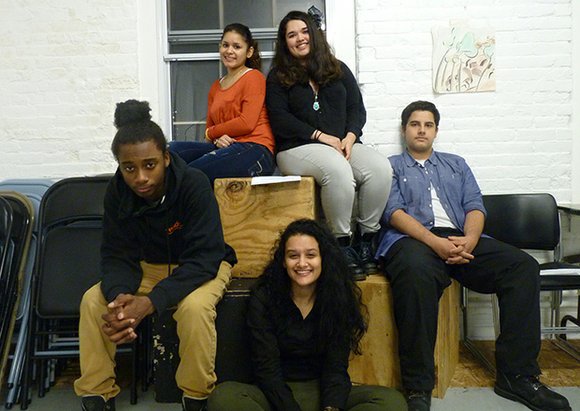 While many teens are forced to settle for retail and fast-food restaurant gigs for their first jobs, Shayna Bredbeck, 16, was able to land a position in Company One Theatre's production apprenticeship program this school year because the theater expanded its education program to provide jobs to students during the school year.
Company One has traditionally had a summer apprenticeship program as part of its educational program, Stage One, but now the program is open during the school year as well from December to May.
"I don't come from a place of a lot of money where I don't have to work, so I'm working to have money in my pockets to do what I normally do," Bredbeck said. "It's incredibly nice to be able to go to a job and be able to look forward to it because I'm learning about stuff I want to be learning about. It's not just work."
The apprenticeship program works with students who are approved through the Boston Youth Fund employment program and the students are placed in various positions with its community partners.
"BYF does a really excellent job of trying to place students where they have interest," Company One educational director Mark VanDerzee said.
During the December to May school year employment program, students meet three afternoons a week.
Stage One's production apprenticeship resembles a job-training program during which students participate in various workshops connected to the theater profession, which can translate into various careers in the industry.
General workshops train students on resume writing, financial literacy, as well as auditioning and interviewing.
Theater-specific workshops include stage management, technical design and computer drafting.
Bredbeck, who is a student at Boston Arts Academy where she studies theater, hopes to pursue a career in acting and says the program is giving her invaluable experience and opening her eyes to the many different aspects of a single production.
"I've been in a bunch of shows, so I know what it means to be onstage. But I don't necessarily know what happens backstage or what happens through the process," Bredbeck said. "The acting part is just a small part of what theater is. Learning about everything is really important so I can value everyone's job."
The students' biggest task during the program is to plan and execute a community engagement event that ties in with Company One's current production.
For Company One's recent production "We are Proud," the students created a video, with the same name as the production, which tells the story of the genocide of the Heroro people in what was formerly known as Southwest Africa.
The students created a spoken word piece for the video and spent a Saturday afternoon interviewing people on the street about the genocide.
As Company One readies to open its new production "The Flick" on Feb. 20, student apprentices are brainstorming ideas for a complementary community engagement event.
"The Flick" is set in an old and ragged movie theatre in Worcester, so the students are thinking about playing an old black and white film as part of an event, Bredbeck said.