in the Mix: Calif. artist brings her mixed heritage themed works to Hub
"The beauty of art is the ambiguity," says sculptor Alison Saar discussing her current exhibit "STILL…" showing at the Sandra and David Bakalar Gallery at the Massachusetts College of Art and Design.
Using such mediums as wood, bronze, paper and glass in her installations, Saar's work often explores and challenges the themes of race and identity, the female form, and spiritually and stereotypes. Saar's own personal struggle with her mixed heritage and her interest in American and African artistic and spiritual traditions often informs her work. Examples of these themes are explored in her recent installations such as "50 Proof," "Black Lightning," "Rouse" and "Weight."
In "Weight," we see a young black girl on a swing dangling from a cotton scale opposite a coal scuttle with objects such as an iron, ladle, horseshoe, shackle, shovel, hot comb, boxing gloves and skillet. Of the piece, Saar states: "I started thinking of it as a kind of cornucopia, about [the girl's] opportunities, and what her value is … as a slave or as a domestic. She can be a hairdresser. She can work in the field. She can be a seamstress, a cook." Of the tattered pair of boxing gloves that are part of the piece, Saar explains that the young girl "has to fight her way out."
Born into a prominent art family in Los Angeles in 1956 and the middle of three daughters, Saar followed in the pathway of her artist mother Betye Saar, whose work is widely known for challenging African American myths and stereotypes through assembling images of Aunt Jemima, Uncle Tom, Little Black Sambo, and other stereotyped African-American figures from folk culture. Her father Richard Saar is an art conservationist and her older sister Lezley became reknowned as an artist for transforming old books into assemblages. Her younger sister Tracye is a writer and author of "Family Legacies: The Art of Betye, Lezley and Alison Saar."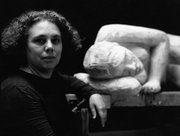 Saar graduated from Scripps College in 1978 in Claremont, Calif., and received a master's degree in fine arts from Otis College of Art and Design in 1981. Her work is held in many collections around the country including the Museum of Modern Art and Metropolitan Museum of Art in New York and the Hirshhorn Museum and Sculpture Garden in Washington, D.C. She has received numerous prestigious awards and grants from the Guggenheim Memorial Foundation, the National Endowment for the Arts and Anonymous Was a Woman.
Saar's exhibit "STILL…" gathers together for the first time four never-exhibited works made during a residency at the Pilchuck Glass School in Seattle with a selection of new bronze and mixed-media sculptures. The exhibit was organized by Otis College of Art and Design's Ben Maltz Gallery and funded in part by Contemporary Collectors Orange County.
Saar spoke to the Banner from her home in Laurel Canyon, Calif., about her influences and her "STILL…" exhibit
How did having a mixed racial upbringing inform your work?
My dad is German Scottish and my mother is African American and Irish. LA is divided by colors of people. It was hard for me to find a place where I belonged. I felt I was living two very different lives. It's a real concern of mine — how we're categorized by the color of our skin.