Diversity lacking in Mayor Marty Walsh cabinet picks
Yawu Miller | 2/5/2014, 11:07 a.m.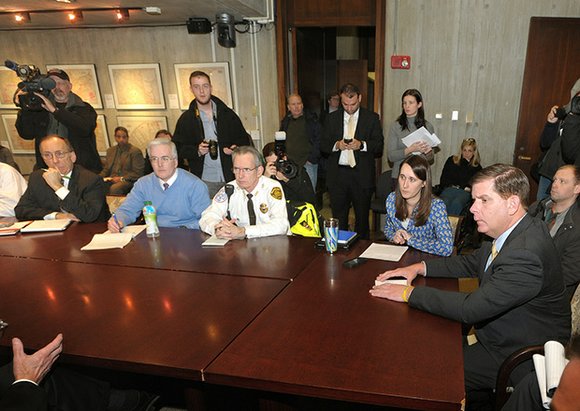 When Mayor Marty Walsh meets with cabinet members to plan for a snow storm, the white-out conditions aren't just on the city's streets.
Despite campaign trail promises to build an administration that is reflective of the diversity of the city at every level, the highest level of his administration remains overwhelmingly white. So far, only Chief of Staff Daniel Arrigg Koh and Health and Human Services Director Felix G. Arroyo add color to the 17-seat cabinet.
Walsh's appointments to date have some of his supporters voicing concern.
We're disappointed at this point," said Juan Leyton, interim director of the Latino Political group ¿Oiste? "We had the expectation that there would be more people of color in higher positions. We're a majority people of color city. City Hall should reflect that at every level."
Walsh administration spokeswoman Katherine Norton said the mayor could not be reached for comment by the Banner's press deadline, but gave the following statement:
"The diversity of the City of Boston is one of the things that makes our city strong, and the citizens of the city deserve an administration that reflects that strength. Mayor Walsh remains committed to leading an administration that is filled with diverse, well-qualified professionals. That commitment has been reflected not only with the appointment of a diverse transition committee, but also by the fact that today, with the guidance of Commissioner Evans, the Boston Police Department has the most diverse command staff in its history."
Walsh did receive high marks from many in the black community for his promotions of black, Latino and Asian officers to command positions. Currently more than 50 percent of command staff positions are occupied by people of color and women.
And among mid-level managers, Walsh appears to have injected some level of diversity. Of 60 appointments made to date — including 27 Police Department promotions — 61 percent have been whites, 22 percent blacks, 10 percent Latinos and 6 percent Asians, according to a list of appointees provided by the Walsh administration. While 39 percent of Walsh's appointments have been people of color, 53 percent of the city's population is non-white, according to the 2010 Census.
Walsh's top level appointments have left some who supported him in the last year's race for mayor concerned.
"This doesn't look like the new Boston," said Alex Oliver-Davila, executive director of Sociedad Latina and a member of the Latino Network, a group of nonprofit leaders. "I'm disappointed and obviously concerned that there are only two people of color in his cabinet."
In January, Walsh made key appointments to his cabinet: Koh as his chief of staff, Joseph Rull to head Operations and Administration, Joyce Linehan as chief of Policy, Lisa Pollack as chief of Communications, former state Rep. Eugene O'Flaherty as corporation counsel and former Department of Neighborhood Development Director Sheila Dillon as Housing chief. Police Commissioner William Evans rounds out the cabinet.
With his appointments, Walsh has filled many of the top positions in city government with key campaign advisors, including Rull and Linehan. Inside and outside his cabinet, he has kept many holdovers from the Menino administration, including Pollack and Dillon.