Program puts BPS students on path to Boston teaching jobs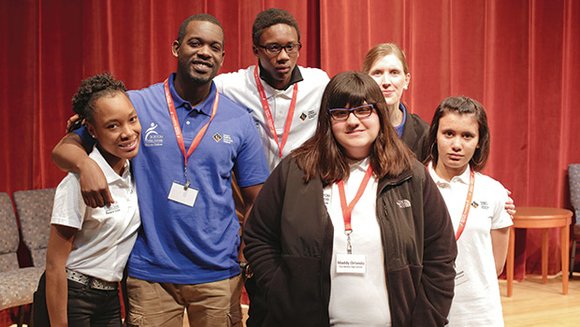 Thirty-six Boston high school students are starting on a seven-year path through high school and college and into teaching careers, thanks to a new Boston Public Schools program aimed at developing a more diverse next generation of teachers.
The High School to Teacher program offers training, mentoring and support to promising students interested in pursuing teaching careers. Launched earlier this year, the initiative aims to help students achieve school and career success while at the same time tackling a key BPS goal to increase diversity in the teaching ranks.
"This high school teacher initiative is part of Boston's overarching initiative to increase workforce diversity. There's been considerable strategy on building the pipeline, and this is part of it," said Ceronne Daly, director of diversity programs at the BPS Office of Human Capital. "We're reaching out to work with high school students throughout their entire high school career and into college."
Recruiting for High School to Teacher's first cohort began in late spring at four Boston schools: Boston Community Leadership Academy, East Boston High School, New Mission High School and TechBoston Academy. Thirty-six students were accepted into the program, and this fall, they began working with program mentors, who are teachers or guidance counselors at the participating schools. In their second semester, students are expected to spend part of their time tutoring other students.
BPS is implementing the program in partnership with Today's Students, Tomorrow's Teachers, a New York-based nonprofit that also operates in New York, Connecticut and Virginia. In Massachusetts, the organization has had partnerships with schools in Worcester, Cambridge and Greater Boston suburbs, but is entering Boston for the first time.
Students in the program are required to achieve a B+ average by their senior year of high school, tutor a minimum of two hours each week, intern for 20 hours each summer and attend teacher mentoring, tutor training, college visits, career counseling and free SAT preparation. In addition to the training and mentoring in high school, participants receive a 50 percent waiver of tuition at participating colleges.
Founded in 1994, Today's Students, Tomorrow's Teachers currently serves 780 students in 40 high school districts and 23 colleges and universities. Participating students have a high school retention rate of 90 percent, a college admissions rate of 96 percent, a college persistence rate of 83 percent and a college graduation rate of 70 percent, according to materials provided by BPS. More than 100 of TSTT's graduates are currently teaching in nine states, according to the organization's website.
In Boston, students in the current cohort are in tenth grade and up; in general, the program is designed nationally to start in ninth grade, and in Boston to start in tenth grade.
Melissa Cera-Garcia, TSTT's regional program manager for Boston, said students were selected through recommendations and an application and interview process.
"We look for students who have an interest in education overall, and either know they want to be educators or are likely to become more interested in that through the process of this program," she said.