Hundreds attend local Brother's Keeper summit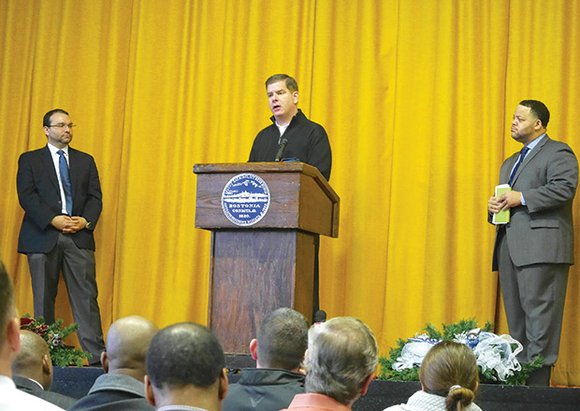 Mayor Martin Walsh welcomed some 500 community members to a My Brother's Keeper summit in Roxbury last Saturday. A diverse group of community stakeholders that included local residents, clergy, educators, police and business and nonprofit leaders — as well as a good number of teens — gathered at the James P. Timilty Middle School to help shape the local MBK initiative to improve the opportunities and outcomes for Boston's boys and men of color.
"Injustice lies in conditions that create hopelessness," said Walsh. "It's up to us to root it out, and make faith and hope grow. That's what My Brother's Keeper is all about. Today is an opportunity for everyone in this room to make a difference."
The MBK Boston initiative is co-chaired by Health and Human Services Chief Felix G. Arroyo and Economic Development Chief John Barros. Arroyo introduced Michael D. Smith, special assistant to President Obama on My Brother's Keeper, who traveled from Washington, D.C. to attend the summit and lend his support to Boston's MBK program.
Smith cited troubling national statistics: double unemployment rates in communities of color; less than 20 percent of black and Latino students reading at grade level by fourth grade; and black boys representing more than 50 percent of U.S. murder victims, though they are only 6 percent of the population. He told a "babies in the stream" parable to illustrate the importance of seeking root causes of immediate crises.
"This is an upstream moment," he said, "a moment where we stop falling in love with the solutions and fall in love with the problems, and go upstream together to figure this out."
Smith called Walsh a "powerful national voice" on the issue of race and equality, citing the mayor's recent visit to the White House, appearances on TV and radio and discussions with other mayors and governors.
"Boston is taking concrete steps," he said. "This is the beginning of something powerful. And we are doing it because your mayor has stepped up, and you have stepped up."
After a performance by the Boston City-Wide String Orchestra and a short speaking program, participants split up into smaller sessions to spend an hour exchanging ideas on subtopics such as public safety, youth employment, education and business development.
Upon returning to the auditorium, group representatives reported on the key points of each session.
A group of high school students reported that the youth employment group discussed reaching out to teen parents and teen dropouts and homeless children, streamlining the application process for youth jobs programs, extending employment programs from summer to year-round and providing shuttle buses to help teens go from school to jobs. The ultimate dream, they said, is "Every youth in the city who wants a job, has a job."
The public safety session discussed expanding Boston Center for Youth and Families youth centers and creating jobs for 13- and 14-year-olds in these centers, and bringing mentorship to all youth and families. Young participants alerted the audience that many youth who want mentors languish on waiting lists for years.